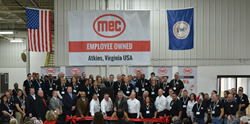 This is a very exciting event for us at MEC and we're pleased to be able to expand our operations in Southwest Virginia.
Atkins, VA (PRWEB) December 05, 2014
Mayville Engineering Company, Inc. (MEC) today opened a state-of-the-art manufacturing facility in Atkins, VA. The facility features over 148,000 square feet and includes the latest high tech equipment to manufacture products for the nation's leading blue chip OEMs (original equipment manufacturers).
"This is a very exciting event for us at MEC and we're pleased to be able to expand our operations in Southwest Virginia. I want to thank everyone who helped make this possible, including the Commonwealth of Virginia, Virginia's aCorridor, the Virginia Economic Development Partnership, the Virginia Tobacco Commission, and Smyth County," said Robert Kamphuis, chairman, president and CEO of MEC. "As a 100% employee-owned company, it was great to see our employee shareholders get to join leaders from the state and local area to celebrate the opening of this fantastic new facility," Kamphuis continued.
The company hosted key customers as well as state and local dignitaries, including Virginia Governor Terry McAuliffe and Secretary of Commerce and Trade Maurice Jones, to celebrate the grand opening of MEC's facility. Guests were given a tour of the production line that features advanced robotics and CNC (computer numerical control) manufacturing equipment.
"This new facility allows us to expand our capabilities to serve leading OEMs with outstanding products and service. We'll move into full production in early 2015 and plan to expand as our customer needs require," said Frank Castanon, vice president of manufacturing – east coast operations for MEC. "Our customers were able to see first-hand the significant investment in cutting edge equipment and capacity that will allow us to grow with them. The response has been very, very positive," he added.
MEC recently completed an important agreement that is bringing jobs to Virginia. Currently, there is a need for skilled welders, engineers, maintenance and quality technicians at MEC's facilities in Atkins and Wytheville. "We're excited to be able to create new jobs in these communities and offer hard-working folks the opportunity to join our unique employee-owned company," Castanon added.
The grand opening of the facility in Atkins has now grown MEC's manufacturing footprint to 17 plants in five states with over 2,000,000 square feet.
More information about MEC's expansion in Southwest Virginia can be found by visiting http://www.mecinc.com or by clicking on MEC's Facebook page at http://www.facebook.com/MayvilleEngineeringCo.
###
About Mayville Engineering Company
Headquartered in Mayville, Wis., MEC has become a manufacturing company where employee shareholders are creating outstanding value and support every day for their customers and communities in which they live and work. MEC serves the agricultural, commercial vehicle, construction, forestry, on/off road power sports vehicles, energy, military, and industrial markets. MEC's processes include complete metal fabrication, laser and plasma cutting, stamping, forming, machining, welding, tube bending and forming, painting, polishing, brazing, cleaning, assembly and kitting, prototyping, product testing and validation, fluid level indicators, stoppers, engine tubes, suction tubes, hydraulic tubes, discharge tubes, fill tubes, high temp coatings, metal encapsulated insulation, fuel tanks, air brake tanks, air intake and exhaust systems. The firm's core competencies include collaborative product development, design for manufacturability, engineering and design review, project management and customer service. MEC operates 17 facilities with over 2,000,000 square feet of manufacturing in Michigan, Mississippi, South Carolina, Virginia and Wisconsin. More information can be found at http://www.mecinc.com.