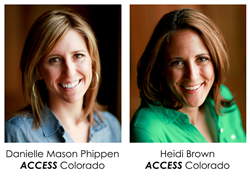 Without question, ACCESS is the wave of the future and we are beyond excited to be part of it!
San Diego, CA (PRWEB) December 04, 2014
ACCESS Destination Services announced today it is expanding into Colorado with Heidi Brown and Danielle Mason Phippen, owners of the Workshop. The Denver-based Destination Management Company (DMC) will join the ACCESS brand as ACCESS Colorado along with the 15 existing ACCESS offices across North America.
With 30 years of combined industry experience, Heidi and Danielle are known for their creativity and developing memorable, cutting-edge events. Their team's customer-centric approach and dedication to operational excellence has made them a DMC leader in the greater Rocky Mountain area.
"ACCESS is comprised of like-minded DMC owners who share a passion for our industry and the clients we serve, and it was these very owners and their teams that convinced us that joining ACCESS was absolutely the perfect choice for our company," expressed Danielle Phippen, Partner, ACCESS Colorado. "ACCESS creates a one-of-a-kind partnership where information, best practices and industry excellence is shared and fostered. Without question, ACCESS is the wave of the future and we are beyond excited to be part of it!"
"We are excited to have Heidi and Danielle join the ACCESS team," shared Chris Lee, CEO of ACCESS Destination Services. "They are charismatic leaders, known for their commitment to service and creating unique experiences for clients. This expansion into Colorado is part of our continued commitment to providing our clients with the local expertise and consistent service levels that they want on a national and global scale."
About ACCESS
Founded in 1969, ACCESS Destination Services sets the standard for excellence in award-winning destination management services throughout North America and the world. Through global alliances with Pacific World and Amstar, ACCESS serves over 100 destinations throughout 30 countries. With global reach and local expertise, ACCESS meets client objectives and exceeds expectations for corporate, incentive and association groups.