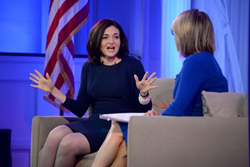 "Sheryl has inspired so many women with her conviction and guidance, and Katie showed us that women can do anything. Both of these women are incredible role models to women—and men—everywhere." -- BCNY Women's Board President Amy Griffin
New York, NY (PRWEB) December 08, 2014
The Women's Board of The Boys' Club of New York (BCNY) hosted its sixth annual Winter Luncheon on Tuesday, December 2, 2014 at 583 Park. This year, the Women's Board was thrilled to welcome special guest Sheryl Sandberg, COO of Facebook and author of Lean In: Women, Work, and the Will to Lead. Interviewing Ms. Sandberg was Yahoo global anchor and esteemed journalist Katie Couric.
Over 450 guests attended the sold-out event. The conversation between Ms. Sandberg and Ms. Couric touched on issues including gender equality, "leaning in" at the workplace and the home and Ms. Sandberg's campaign to ban the word "bossy."
"We were thrilled to have such distinguished women with us this year," said Women's Board President Amy Griffin. "Sheryl has inspired so many women with her conviction and guidance, and Katie showed us that women can do anything. Both of these women are incredible role models to women—and men—everywhere."
Just as LeanIn.Org collects stories about people around the country leaning in, stories of women pursuing and achieving their dreams, as well as women and men facing—and defeating—their own prejudices, BCNY works to create men of character, who respect themselves and others, and who learn to see beyond gender stereotypes. BCNY's programming includes Real Men, a program where BCNY teen members explore alternative definitions of masculinity to learn how presumed gender roles affect their relationships, and can hinder not only the women in their lives, but themselves, as well.
The Winter Luncheon raised support for and awareness of BCNY's many recreational, educational and cultural programs that give all boys, no matter their circumstances, opportunities for enrichment and success. All proceeds from the luncheon go the Club's recreational, educational and social programs.
Guests included BCNY Women's Board members Nathalie Kaplan, Cynthia van Eck, Victoria D'Agostino, Gabrielle Bacon, Mai Hallingby Harrison, Ros L'Esperance, Diane van Amerongen, Elizabeth Pyne, Dara O'Hara, Ritchey Howe, Alexia Hamm Ryan, Kathy Irwin, Cosby George, Jamee Gregory, Jackie Williams, Muffy Miller, Betsy Pitts, Kristin Allen, Aerin Zinterhofer, Stephanie Coleman, Danielle Ganek, Brooke Lynyak, Calvert Moore, and Claudia Overstrom. BCNY Trustees in attendance included its President Edward Rappa, Damien Dwin, Scott Wilson, Chris Errico, Angie Hankins, Bob Ireland, Jeff Smith, Bill Tyree, and BCNY Executive Director Stephen Tosh.
Among the many guests were Kerry Kennedy, Mary Pat Christie, Diana Taylor, Laura Mannix, Michaela Cuomo, Parker Gilbert, Simone and Chris Mailman, David Tyree, Eliza Nordeman, Kathryn Tyree, Alexandra Robertson, Travis Acquavalla, Alison Brokaw, Tory Burch, Diana DiMenna, Sarah Robertson, Mark Gilbertson, Ferebee Taube, Carolyn Reece, Leslie Heaney, Blair Husain, and many, many others.
About The Boys' Club of New York
The Boys' Club of New York (BCNY) is committed to nurturing, mentoring, and guiding boys and young men to prepare them to reach their fullest potential.
Throughout its 138-year history of youth development, BCNY has combined a single-minded focus on boys and young men with a unique, multi-disciplinary approach that prepares them for a fulfilling and meaningful adulthood. BCNY accomplishes this through an approach that includes music and arts programs, social and recreational activities, academic support and athletics.
By introducing boys to new ideas, expanding their interests, developing their hobbies, providing a safe and nurturing environment and offering ongoing counseling and mentorship, BCNY helps shape boys and young men into the best adults they can be.
# # #
If you'd like more information about this event, or to schedule an interview with BCNY, please call Helen Frank at 347.505.5416 or e-mail Helen at Helen.Frank(at)bcny(dot)org