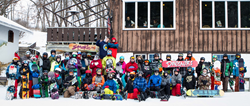 "I created the Snowboard Camp Tour nine years ago to share my passion for riding with the youth all across the nation. I wanted to give kids the opportunity to ride with pro-snowboarders, follow their passions and live their dreams. - Pat Milbery
Denver, Colorado (PRWEB) December 04, 2014
Denver, Colorado. nation over the course of three months. The Snowboard Camp Tour is an accessible snowboarding camp taught by pros that offers two days of low-cost personal education, prizes, gear and fun for anyone and everyone.
The snowboard camp was designed and built around one key principal – follow your passions. Since it's inception nine years ago the camp has grown exponentially, expanding to cities in Colorado, Wisconsin, Illinois, Michigan, Ohio, Minnesota, Pennsylvania, New Mexico, California and Washington. The tour is powered by Pat Milbery and several corporate supporters who truly understand the mission of So-Gnar and want to help So-Gnar make an impact on communities and youth around the nation.
"I created the Snowboard Camp Tour nine years ago to share my passion for riding with the youth all across the nation. I wanted to give kids the opportunity to ride with pro-snowboarders, follow their passions and live their dreams. I want to encourage the youth to create, share and love what they do every single day – no matter what that is." – Pat Milbery
Snowboarders of all skill levels and ages are encouraged to sign up for camp. Everyone in attendance will walk away with gear from Ford Motor Company, Zumiez, 686, Zoo York, Zeal and Die Cut Stickers. In addition, EVOL Foods will be providing every camper a healthy lunch. Each rider will leave with a few new tricks to impress their friends on and off the hill and a big smile.
Ford Motor company is helping power the 9th edition of the Snowboard Camp Tour with the contribution of two 2015 Ford Transits. The vehicles have undergone a snow-transformation, making them So-Gnar ready for camp. The So-Gnar Transits will transport the team to this year's tour stops safely and in style, providing fun on and off the hill.
"We're excited about what the tour has become. Ford Motor Company has made this possible in a huge way with their contribution of two 2015 Ford Transits. We could not be more excited to show the world what we have been able to create with a little help from our newest tour supporter." - Pat Milbery