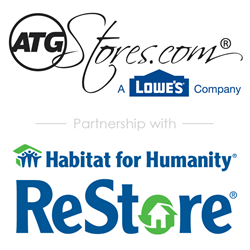 This support will make it possible for us to help more families around the world realize the dream of homeownership.
Kirkland, WA (PRWEB) December 04, 2014
ATGStores.com is joining Habitat for Humanity ReStores in a new partnership, committing in-kind donations with a retail value of $500,000, over the next year to support Habitat's mission of creating safe, decent and affordable housing.
The donations, which will consist of new and unused returned products, are the next step for ATGStores.com as it expands its charitable commitments through its All That's Good Deeds program.
"As an online home improvement company, our business model and logistics ability give us an opportunity to make a real difference in our community," said ATGStores.com Purchasing & Fulfillment Director Donna Miller, "and by partnering with Habitat for Humanity ReStores, we can make an even bigger impact."
Habitat for Humanity ReStores are nonprofit home improvement stores and donation centers that sell new and gently used furniture, home accessories, building materials and appliances to the public at a fraction of the retail price. Proceeds are used to build homes, community and hope locally and around the world.
"We are excited to partner with ATGStores.com," said Larry Gluth, senior vice president, U.S. and Canada, Habitat for Humanity International. "This support will make it possible for us to help more families around the world realize the dream of homeownership."
The program represents an environmentally responsible way for both ATGStores.com and Habitat ReStores to make a difference in local communities. ATGStores.com donated a portion of the products beginning in July 2014, and will donate the remaining products through the end of 2015.
"We're excited for the chance to grow our All That's Good Deeds program with this partnership, particularly during the holiday season," said ATGStores.com President Michelle Newbery. "Habitat for Humanity has made it possible for us to give back even more, and we look forward to seeing what we can accomplish together."
In addition to the ATGStores.com partnership with Habitat for Humanity ReStores, Lowe's renewed its partnership with Habitat for Humanity International this year with a five-year commitment that will bring its total contributions to more than $63 million since 2003.
###
About ATGStores.com
ATGStores.com, a Lowe's company since 2011, specializes in home improvement and home furnishing products. ATGStores.com has been serving customers since 1999 and features more than 3.5 million products in a host of different categories ranging from lighting and plumbing to furniture and hardware. To learn more visit ATGStores.com.
About Habitat for Humanity International
Habitat for Humanity International's vision is a world where everyone has a decent place to live. Anchored by the conviction that housing provides a path out of poverty, since 1976 Habitat has helped more than 5 million people through home construction, rehabilitation and repairs and by increasing access to improved shelter through products and services. Habitat also advocates to improve access to decent and affordable shelter and offers a variety of housing support services that enable families with limited means to make needed improvements on their homes as their time and resources allow. As a nonprofit Christian housing organization, Habitat works in more than 70 countries and welcomes people of all races, religions and nationalities to partner in its mission. To learn more, donate or volunteer, visit habitat.org.