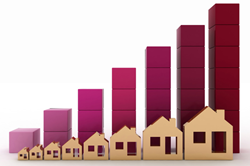 prices remain 12.4% below their April 2006 peak
Chicago, IL (PRWEB) December 03, 2014
Peoples Home Equity, a mortgage lender with a large presence in the Midwest, was pleased to read that home prices increased 6.1% year-over-year in October.
Accordingly Corelogic's latest December 2nd blog entry, October home prices rose by 0.5% month-over-month, marking "the 32nd consecutive month of year-over-year increases." Year-over-year price are up 6.1%, "Excluding distressed sales, home prices increased 5.6 percent from October 2013 and were up 0.6% from the month prior." If one includes distressed home sales, prices remain 12.4% below their April 2006 peak, "excluding distressed sales, prices were down 8.9 percent from peak levels."
In terms of state by state performance including distressed home sales, "Michigan led the country with a 10.5-percent increase from October 2013, followed by South Dakota with a 10.4-percent increase." If one excludes distressed sales, then again South Dakota led the gains at 10.4% and then Massachusetts at 9.7%.
Peoples Home Equity was especially intrigued by how "nine states reach new highs in home prices in October 2014." This was impressive since home prices tend to begin dwindling by the end of October yet with nine states showing new highs, seasonal strength is apparent. The nine states were: South Dakota, Texas, Colorado, New York, North Dakota, Louisiana, Tennessee, Wyoming, and Nebraska.
The increase in home prices reflects demand in the housing market. More American's are employed now enabling them to be pre-approved for a home loan. Unless one has cash, the only way for prospective home buyers to compete with on another is by being pre-approved for home loans. Thus, being approved for a mortgage is essential. Apart from placing bids and competing with other buyers, being pre-approved for a home loan filters the applicant's property search by knowing how much they may borrow. In total, the entire home buying process is streamlined by being pre-approved for a home loan.
If unsure whether or not a home loan is an affordable choice, please note that frequently it's less expensive to pay the mortgage, association fee, taxes, and utilities than it is to pay rent! One can easily find out how much a monthly mortgage will cost by visiting PeoplesHomeEquity.com and click on "Monthly Payment Calculator" under the "Calculator" field.
Contact a Peoples Home Equity loan officer today at: 262-563-4026