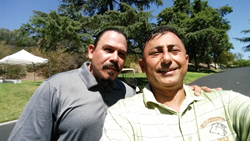 Vision is more important than any golf club money can buy .
Los Angeles, Ca (PRWEB) December 22, 2014
Khanna Vision Institute is pleased to report that Dr. Khanna's guest interview on the Tee It Up Radio Show was a big success. The Tee It Up golf show has been aired on Sunday mornings for the last 21 years. This week Los Angeles Lasik surgeon Dr. Rajesh Khanna, M.D. was invited to discuss the importance that vision has on golf.
Dr. Khanna delved into the science of hand-eye and mind coordination. He explained the sight was even more important than any golf club: by challenging any golfer to play with their eyes closed, or playing a game of golf with their most hated club while focusing on their vision of the ball and club. He further went on to say even an amateur golfer with good vision may play better than a pro golfer with poor vision. Listeners quickly realized the importance of Dr. Khanna's words and asked many questions. One question was whether Lasik would work for all golfers. Dr. Khanna replied that depending on age, prescription, and other factors, like dry eyes, would determine if Lasik, Superlasik, or PI (presbyopic implant) would be the appropriate surgery. Another question was a request for Dr. Khanna to demonstrate any eye exercises to improve ones game of golf. The doctor observed it was not possible to show the exercises on radio. He said he would upload them onto the Khanna Vision Institute website.
Dr. Khanna is well suited to educate on this subject. He is an avid sportsman who swims, hikes, plays tennis and competitive field hockey. A few years ago he started playing golf and has been enjoying the game tremendously. He has helped many golfers decrease their score by improving their vision. He even conducted a study where people were asked to comment on their golf game before and after their vision correction procedure. All participants saw a dramatic increase in their golf skills and enjoyment of their golf game.