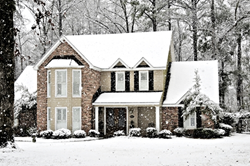 sellers may be willing to come down in price as well.
Chicago, IL (PRWEB) December 03, 2014
When it's chilly out, one would probably rather sit by the fire than go to open houses. One may even think the effort isn't worth it because winter's a bad time to buy. But The Federal Savings Bank, a Midwest based lender, highlights this false notion. There are pros and cons to house hunting in any season. Home buyers, shouldn't be quick to pause their searches when the snow starts to fall, especially when current housing inventories are very low compared to demand. Currently, with U.S. unemployment at 5.8% in October, more and more Americans are being approved for home loans thanks to their newly found jobs
Winter buying advantages
Compared to the busier spring and summer seasons, home buyers face less competition from all-cash and investor buyers during winter. First-time home buyers are pushed out of the housing market because they can't compete with higher bidders during warmer months. But, during winter, these house hunters are more likely to find the perfect pad. With less competition for homes, sellers may be willing to come down in price as well.
Additionally, sellers can't hide certain problems during winter - like whether the furnace works. One can also tell how well the gutters work by checking for icicles hanging from the house or ice puddles on walkways.
Winter buying disadvantages
Once snow has fallen, it becomes difficult to tell what the yard is really like. One may not realize there's a slope to the yard or that there's a large garden area when it's covered. The coloring of the season can also make the area seem bleak or unattractive. However, home buyers just need to use a little imagination to remember the trees will have leaves and the grass will be green again soon.
The snow also hinders getting a true assessment of the size and borders of the land, which can be an issue if plot lines are in dispute.
Additionally, moving in winter can be a pain. The snowy and icy conditions can make it difficult to drive a moving truck and carry boxes safely to and from the houses.
No season is the exact perfect time to find a home. There may be more homes on the market during spring and summer, but buyers face extra competition. First-time home buyers shouldn't give up on their house hunt just because the weather turns cold. In fact, while other buyers are scared off, first timers may finally be able to bid on their dream homes.
First-time home buyers should contact The Federal Savings Bank, a veteran owned bank, to learn more about low mortgage rates.