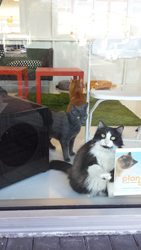 Our community is thrilled to have a coffee place to gather and cuddle adoptable cats.
Naples, FL (PRWEB) December 03, 2014
Naples cat lovers have staked a claim as the second city in the United States to open a cat cafe'. Planet Tails, a pet lifestyle center, has opened the Planet Tails Cat Café' in Naples. Adoptable cats from Collier County Domestic Animal Services live in the free roaming Cat Café'. Guests socialize with fellow cat lovers, snuggle with the cats, watch cat videos via free Wi-Fi, and enjoy complimentary coffee and food.
Cat Café's are a hot trend, coming over from Japan, where there are over 150 such café's. In the US, Cat Town opened in Oakland, CA on October 25, 2014. Other such cat café's are planning their openings around the US as fast as they can.
Owned by pet product guru Ericka Basile, Planet Tails is a pet lifestyle center with multiple areas; retail, aquarium, pet boarding and daycare, and a pet educational center. Basile is a veteran pet industry expert. She was a pet product scout for Good Morning America, a judge at Global Pet Expo, and a professional pet product buyer.
Basile began her animal endeavors in Naples in 2006 with her publication Naples Dog Magazine. In 2009, she went to NY to work for Fab.com and Good Morning America. In 2014 she returned to Naples to open Planet Tails. Founding a cat cafe' where cat lovers can socialize, adoptable cats have a place to strut their stuff, and customers can enjoy refreshments is a dream come true; true for a crazy cat lady, a title which Basile embraces with a blissful smile.