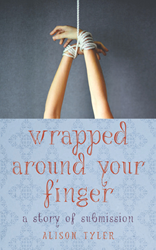 She writes BDSM like no one else.
(PRWEB) December 04, 2014
Samantha's attraction to her Dom, Jack, grows as they indulge in a sultry, Story of O-style affair. He promises her a trip to Paris, and in anticipation, creates a series of sexual rewards inspired by the seven deadly sins—one for every day of the week. As Samantha dives deeper into his imagination, she discovers new edges to her own sensuality.
Hailed by everyone from Publishers Weekly to Penthouse Variations as the pinnacle of BDSM fiction, this coming-of-age tale pulses off of the page. Wrapped Around Your Finger is, at the core, a great love story—and one that could only happen in our time. Inspired by Alison Tyler's own sex diaries, this lusciously authentic novel is a romance so intensely written, you'll feel every hard-earned caress.
Romantic Times wrote about the book: "I've been a fan of Tyler for years, ever since I first discovered erotica, and have had the pleasure to work with her a little bit over the years. She was doing the 'Fifty Shades of Grey' thing long before that series was imagined, and she writes BDSM like no one else. I'm dying to see how far she takes things in her latest novel!"