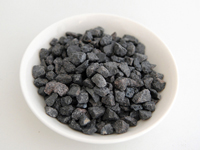 Zhengzhou, China (PRWEB) December 07, 2014
Engaged in the manufacture and sales of brown fused alumina, Sanmenxia Mingzhu Electric Metallurgical Co., Ltd. introduces its brown fused alumina section sand BFA 5-8mm.
Brown fused alumina is made by high-quality bauxite as main material, fusing and purifying in a pouring electric arc furnace under a temperature of over 2200°C, and made into different grain size through crystal, choosing, crashing, magnetic, separating, screening, washing and acid washing, etc.
Available Size
1. 0-1mm, 1-3mm, 3-5mm, 5-8mm, 10-20mm.
2. Products can be customized such as 0-0.5mm, 0.15-0.5mm, 0.5-1mm, 8-15mm, etc.
Application
Brown fused alumina section sand is mainly used for refractory material.
Characteristics
1. All products have high hardness, strong stability and good resistance.
2. The grains shape of all products are good and uniform.
3. All products are of high purity for our advanced environmental protection equipment.
4. Products can be customized according to customer's requirements.
Packaging
1. 25KG paper bag, plastic bag, ton Bag, pallet.
2. Packages can be customized according to customer's requirements.
Quality Assurance
1. Mingzhu has passed the certification of ISO9000.
2. The company has two labs for chemistry test & physical test. All products will pass strict multi-inspections to ensure products' quality.
3. Mingzhu reserves samples for each batch of products. Each sample and test report will be kept for 3 years after delivery.
Advantages
1. With professional team, Mingzhu is capable of producing a variety of particle size range of products according to customer's requirements.
2. The company has a strict quality inspection system to ensure the products' quality and safety.
3. Mingzhu also has a perfect after-sales service system. Products that have any problem after delivery can be traced back.
About the Company
Located in the first dam of Yellow River--Sanmenxia hydro-junction, Sanmenxia Mingzhu Electric Metallurgical Co., Ltd. has abundant electricity and mineral resources as well as convenient transportation. The companies has years of experience in brown fused alumina smelting and now it owns three sets of 5000KVA brown fused alumina dumping furnace, 5000KVA brown fused alumina decladding furnace.The company now has over 30,000,000 Yuan permanent assets and more than 400 employees. The annual output of brown fused alumina is about 45,000 to 50,000 tons. Product quality is stable, highly guaranteed and up to national standard, so its products sell well both in China and overseas market, such as European and America, Japan, Korea, South Africa and many international cities. Its Products have received good reputation and received various awards of relevant authorities.
To enhance company competitiveness and broaden industry chains, on April 30th, Sanmenxia Mingzhu Electric Metallurgical Co., Ltd. Co-invested 5,000,000 Yuan with Japan OTC to establish the joint-venture--Sanmenxia Fused Alumina Co., Ltd., which has become the second modern manufacturing fused alumina production line, whose yearly fused alumina is over 25,000 tons. The company enjoyed great popularity and passed ISO 9000 quality control system verification in April, 2006. "Incessant innovation and strive to be the best" has been the company's goal. Sanmenxia Mingzhu Electric Metallurgical Co., Ltd. is pleased to establish business relationship with customers all over the world.
Author: Liwei Chu
Copyright: iAbrasive.com--Abrasives & Diamond Tools Market