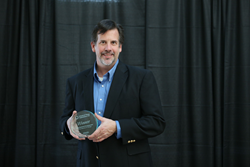 Ottawa, IL (PRWEB) December 04, 2014
B&B Electronics, a developer of mission-critical network connectivity solutions, announced that its Wzzard Intelligent Sensing Platform has won awards, independently judged for technical achievement and market potential, for Internet of Things (IoT) networking applications:

"Best Technical Development of the IoT" from international research firm IDTechEx, awarded at its November 2014 IoT Applications Conference in Santa Clara. The winner must be a new IoT product launched in the last 24 months. Wzzard won based on its technical development, its potential market, and its benefits over alternatives.
"Most Innovative Connectivity Solution" at Total Telecom's IoT Awards (IoTA) December 2, London. Judged based on evidence that Wzzard is innovative, sustainable and focused on the IoT space.
"Hot 100 Products" which showcases the electronics industry's most significant products of the year that caught the attention of EDN Magazine's editors. Wzzard earned a spot in the Sensors category.
The Wzzard Intelligent Sensing Platform is a complete wireless sensor connectivity platform featuring edge decision-making which enables more efficient, intelligent and scalable networking in remote and demanding IoT environments. B&B developed Wzzard to facilitate the coming world of connected intelligence, where smart machines and systems will collaborate, inform and make decisions on the intelligence gained from each other with little human supervision. In this scenario, low-power wireless solutions that extend the network edge to include difficult locations while simultaneously providing "five nines" (99.999%) uptime will be important. Wzzard anticipates these needs.
The Wzzard platform's technologies, protocols and hardware work together to reduce the expertise and time it takes for integrators to develop scalable IoT connectivity solutions. They include:
Wzzard Intelligent Edge Nodes which connect to industry-standard sensors.
SmartMesh IP wireless sensing technology which enables auto-forming, self-healing, self-sustaining networks that are also highly scalable.
MQTT – a simple messaging transport protocol for M2M/IoT over wireless networks.
B&B's intelligent Spectre cellular gateway, connecting equipment and devices to the Internet or Intranet over either wired Ethernet or wireless cellular connections.
Wzzard has also been named a finalist in the Control Engineering 2015 Engineers' Choice Awards program, in the Network Integration — Wireless Products category. Voting (http://www.controleng.com/VOTE2015) continues through December 31, and winners will be announced February 16, 2015.
The Wzzard platform was announced in July 2014 (http://www.bb-elec.com/About-Us/News/Press-Releases/Wzzard-Intelligent-Sensing-Platform.aspx), and B&B Electronics is preparing enhancements for announcement in 2015. The company is also developing an ecosystem of Wzzard partners for announcement in 2015.
About B&B Electronics:
Founded in 1981, B&B Electronics Inc. provides intelligent M2M and IoT connectivity solutions for wireless and wired networks. Specializing in device connectivity at the "edge" of networks in remote and demanding environments, the company designs and builds products using Ethernet, serial, wireless and USB communication technologies. Working globally with experienced channel and application partners to deliver complete application solutions, the company is known for building rugged networking products that are easy to deploy and easy to manage. All products are manufactured in the US and European Union with local field applications engineers available worldwide for localized technical support. B&B Electronics is headquartered at 707 E Dayton Road, Ottawa, Illinois USA with EMEA operations based in Galway, Ireland. Additional engineering locations are based in California and the Czech Republic. 800-346-3119 http://www.bb-elec.com.
###
Editorial Note: The press release page contains downloadable visuals: http://www.bb-elec.com/PR-WzzardIOTAwards