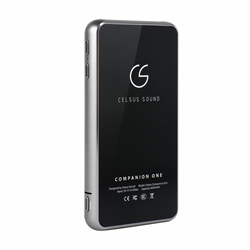 "Audio enthusiasts can now free their smart phones from their portable DACs by streaming high resolution audio from the Companion One. With USB cables for PC, iOS and Android devices, the Companion One is a truly versatile DAC." - Jason Lim, CEO
(PRWEB) January 13, 2015
Celsus Sound today announces the release of Celsus Companion One, an advanced and comprehensive portable High-Res audio device, features a high-performance headphone amp with better than 115dB signal-noise ratio. The Celsus Companion One is the world's first high-performance DAC that supports both USB cable and wireless connections to Windows, Mac, Android (*OTG) and iOS devices.
The Companion One includes the following features:
▪ 1 x Headphone Output with dual gain setting, 1 x Line Output and 1 x Optical Output
▪ PCM audio: 16/24/32-bit audio data, 44.1 / 48 / 88.2 / 96 / 176.4 / 192 / 352.8 / 384 kHz native sample rate.
▪ DSD audio: DSD64 and DSD128 native decode.
▪ Wireless audio supports uPNP network media streaming and Airplay
▪ Wireless audio PCM format: 16/24-bit, 44.1 / 48 / 88.2 / 96 / 176.4 / 192KHz.
▪ Asynchronous USB audio clocking with two internal low-jitter clocks separately for 44.1kHz (88.2/176.4/352.8) and 48kHz (96/192/384) sampling, achieving ultra-low-jitter performance with better than 115dB signal-noise ratio.
▪ Extremely low latency
The user enjoys the highest quality desktop USB audio playback available and, with the push of a button, streams music from connected devices with better than CD-level resolution.
The Companion One's curved frame, machined from a single block of aluminum, is a pleasure to hold. With its top and bottom gorilla-glass covers, the Companion One's build quality surpasses most portable DACs on the market today. The unit's signal path and headphone amplifier circuit have been painstakingly optimized for maximal headphone performance.
Pricing and Availability
The Celsus Comanion One will be available worldwide in January at a retail price of $595. To learn more, please visit http://www.celsus-sound.com/
About Celsus Sound
The mission and purpose of Celsus Sound is the production of superior portable audio products for discerning music lovers. The brainchild of Jason Lim, a NuForce co-founder and former CEO, Celsus Sound sets quality above all else. Each Celsus Sound device is to be cherished for its build quality, unique features and exemplary performance.
Media Contacts
Mod Liao / Marketing Manger
Email: modl@heapventure.com