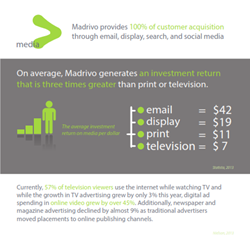 Madrivo's email-generated revenue increased by 250% and 160% from last year, proving that the newly developed integrated marketing system can effectively meet the needs of a mass market audience.
Las Vegas, Nevada (PRWEB) December 04, 2014
In the months leading up to Thanksgiving Weekend, multiple market research forums predicted that Black Friday and Cyber Monday would be the biggest online shopping days of year and that sales on Monday would generate the largest online revenue in history. These predictions turned into realities and, although each day's total revenue didn't increase as much as in previous years, ecommerce earnings rose by 9.5% on Friday and 8.1% on Monday, with email traffic largely to thank.
Madrivo, a refined affiliate marketing agency that has redefined the brand-to-consumer relationship, capitalized on the online shopping surge and experienced revenue growth of 250% on Friday and 160% on Monday compared to earnings in 2013. While the online media company expected a substantial boost in sales, their triple-digit growth rates far surpassed estimations, a milestone that speaks to their evolving reign in the email advertising space.
Madrivo's rapidly expanding network of top-notch affiliates and ongoing partnerships with brand name advertisers have directly contributed to their sophisticated deployment strategies, allowing the company to offer distribution resources and conversion results that few others can. By solidifying quality traffic sources and prioritizing customer acquisition, the company has thrived at transforming otherwise-lackluster advertisements into high-converting, highly-optimized email campaigns that create brand awareness for their clients and hit benchmark lead generation goals.
Because Madrivo has an extensive knowledge of the online marketing industry and remains cognizant of ongoing trends and evolving technology, the company successfully reached hundreds of thousands of consumers over the holiday weekend. Research shows that email marketing generated 27.3% of online orders for Friday and 23.9% on Monday nationwide. As such, Madrivo's email-generated revenue increased by 250% on Friday and 160% on Monday from 2013. Clearly, the online marketing agency has developed an integrated system in which their day-to-day operations can effectively meet the needs of a mass market audience and deliver quality results to both brands and their customers.
In coming years, researchers anticipate that Friday and Monday growth rates will decline and that the exclusive, one-day promotions that consumers traditionally seek will eventually span over the length of a week or more during late November. However, online sales revenue should continue to peak at that time of year, especially for mobile and email traffic channels. In lieu of the timeworn practices that will become obsolete by Fall 2015, Madrivo will have recalibrated strategies and comprehensive resources in place in order to yield monumental results for their valued partners.
For now, the company will strive for a strong close to the year while enjoying the implications of their accomplishments and looking forward to an even more triumphant 2015.
About Madrivo:
In the constantly evolving and incredibly fast-paced digital era, Madrivo is an integrated online marketing agency that develops efficient marketing solutions, unifies customer acquisition strategies, and develops tactics to successfully move traditional operations to the Internet. The team at Madrivo guides companies, large and small, globally, to establish the most cost effective online presence.
Media Contact:
Ms. Sarah Dysthe
press(at)madrivo(dot)com
3889 S Eastern Ave
Las Vegas, Nevada 89169
United States