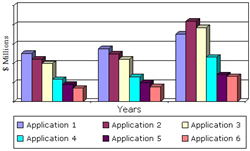 Global Market for OSDs to Reach $1.7 Billion by 2019
Wellesley, Mass. (PRWEB) December 04, 2014
BCC Research (http://www.bccresearch.com) reveals in its new report that the rising concerns towards data storage and data backup, along with data warehousing and e-mail archives, have created an unprecedented demand for data storage. Given that there is a perceived security threat to online data storage, coupled with the tendency of hard drives to crash; optical storage devices or OSDs have emerged as an important growth area for the storage industry. It is expected to increase at a compound annual growth rate (CAGR) of 9.5%, growing from the market size of nearly $950 million in 2013 to nearly $1.7 billion through 2019.
Although OSDs are one of the oldest technologies, it is still one of the safest ways of storing data. The markets for CDs, DVDs and Blu–ray discs, which utilize this technology, are getting more robust and rugged, creating a renewed demand for OSD.
It is predicted that there is going to be a paradigm shift in the conventional usage of OSDs from entertainment segments to more industrial and secured data storage devices. "The healthcare and banking, financial services and institutions (BFSI) are the key sectors and will be the engines of growth for OSDs, given the conventional entertainment sector is slowing down due to online availability," says BCC Research analyst Sinha G. "Public administration and education will hold the largest market share by the end of the forecast period. The penetration of OSD in this sector will be rapid, making it the fastest growing of all the sectors."
In terms of application, the CD-ROM is the oldest OSD technology currently in use. They are still one of the preferred OSDs as they are convenient for small-sized data, and are the favored storage for software. Globally, CDs are sold as consumer goods, mostly penetrating gaming and software markets, along with the entertainment segment. Therefore, the key factor that affects regional trends is population. The Asia-Pacific region has seen a boost in the software and gaming industry and the market is anticipated to grow at a 2.7% CAGR to reach $121 million in 2019, which is about 62% of the overall market.
Optical Data Storage Devices: Technologies and Global Markets gives an impact analysis of the optical data storage device market. It includes factors currently driving and restraining the growth of the market, as well as factors impacting the future of the industry. Revenue forecasts are provided for the period 2014 to 2019.
Editors and reporters who wish to speak with the analyst should contact Steven Cumming at steven(dot)cumming(at)bccresearch(dot)com.
About BCC Research
BCC Research publishes market research reports that make organizations worldwide more profitable with intelligence that drives smart business decisions. These reports cover today's major industrial and technology sectors, including emerging markets. For more than 40 years we've helped customers identify new market opportunities with accurate and reliable data and insight, including market sizing, forecasting, industry overviews, and identification of significant trends and key competitors. We partner with analysts who are experts in specific areas of industry and technology, providing unbiased measurements and assessments of global markets. Our clients include the top companies in industries around the world as well as universities, business schools, start-ups, consulting firms and investment companies. Visit our website at http://www.bccresearch.com. Contact us: (+1) 781-489-7301 (U.S. Eastern Time), or E-mail information(at)bccresearch(dot)com.
Data and analysis extracted from this press release must be accompanied by a statement identifying BCC Research LLC, 49-2 Walnut Park, Wellesley, MA 02481, Telephone: (+1) 781-489-7301; Email: editor(at)bccresearch(dot)com as the source and publisher. Thank you.