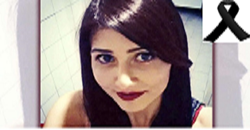 (Tuğçe's death) doesn't mean we should take it as a sign to refrain from standing up to bullies. Yes safety is important but what is more important to stand up to bullies once and for all.
London, UK (PRWEB) December 04, 2014
On a cold autumn day in Germany, over 1500 people gathered on Wednesday December 3rd to pay their respect to Tuğçe Albayrak, a local hero who lost her life after defending two teenage girls from persistent harassment. Why what are the lessons to take away from her death? NoBullying remembers the life of Tuğçe Albayrak in an article released today.
According to this news source, published on December 4th, 2014, Tuğçe Albayrak, a college student was killed by an 18 year old man after she heroically stepped in to protect two girls from the bullying and harassing actions said to have been performed by the assailant and other men at a local restaurant in Germany.
Tuğçe received blows to the head in a very graphic fight seen shown in blurry CCTV footage of the parking lot. The assailant (18 years old), is suspected to have returned for Tuğçe after she saved the two teenage girls from his harassing advances. The footage shows her falling still to the ground after suffering a traumatic brain injury that put her in a deep coma that she never recovered from. Her parents took the decision to take her off life support last Friday on her 23rd birthday after it was decided by doctors that she would never regain her consciousness and is in fact brain dead.
As mourners gathered yesterday to celebrate Tuğçe's heroic actions, one can't help but wonder what her death truly means for anti bullying and anti harassment efforts worldwide, argues Radwa Rashad, NoBullying's editor. "Does that mean bystanders will continue to be bystanders in fear for their own lives?" Rashad asks.
In the article covering Tuğçe Albayrak's death and funeral, NoBullying staff urged anti bullying and anti harassment campaigners not to take Tuğçe's death as a sign of letting harassers and bullies go unstopped but to take her death as a push to stop bullying and harassment today before more lives are lost.
Ciaran Connolly, Co Founder of NoBullying says "It is trueTuğçe Albayrak lost her life to a violent crime for standing up to a bully. However, that doesn't mean we should take it as a sign to refrain from standing up to bullies. Yes safety is important but what is more important to stand up to bullies once and for all."
He added that parents and teachers should make a point to educate the younger generations about the sad outcome of neglecting online safety and photos safety. According to Connolly, it is quite imperative to press for more firm laws condemning all acts of bullying and harassment.
NoBullying.com features many pages dedicated to parents, teens, teachers, health professionals as well as posts related to cyber safety and the latest news about law making concerning curbing Bullying worldwide as well as inspirational Bullying Poems and famous Bullying Quotes.
The website regularly updates its bullying statistics and cyber bullying statistics as it is essential to understand how widespread the bullying epidemic is. It also regularly runs cyber bullying surveys and questionnaires to get recent updated statistics on everything related to cyberbullying.
He also added that anyone suffering from bullying in any form or way can always find advice and help on the NoBullying website – but if anyone is suffering from severe bullying or cyber bullying, the best thing is to talk to someone locally – a parent, teacher or local organization that has been set up to help with specialized councilors to deal with this topic.