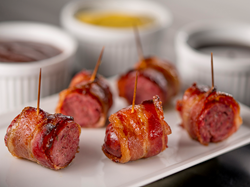 M.I.O helps out with the holiday planning
Oklahoma City, OK (PRWEB) December 04, 2014
The Made in Oklahoma Coalition understands the holidays are a time for family and, to help out with the party planning, they have prepared three scrumptious recipes. From appetizers to sides and after dinner drinks, M.I.O. has partnered with their members to bring consumers these wonderful treats: Bacon Wrapped Sausage Bites, Sweet Barbeque Meatballs, and a Honey Lemon Drop Martini. So show off your hosting skills this holiday to your loved ones by adding these wonderful recipes to your menu.
The Made in Oklahoma Coalition offers delicious dining ideas while promoting food products manufactured in the state. For these unique recipes, M.I.O. has partnered nine Oklahoma based member companies to help prepare these recipes: Mountain View, Bar S, Head Country, Griffin's, Prairie Wolf Vodka, Seikel's, Fast Fixin', Andrew's Honey, and Garden Club.
Bacon Wrapped Sausage Bites
2 package Mountain View smoked sausage
1 package or 1lb Bar S thin sliced bacon
2 Tb. Head Country Championship Seasoning
4 oz Griffin's original syrup
4 oz Seikel's old style mustard
4 oz Head Country BBQ sauce
Tooth Picks, Parchment paper
1. Preheat oven 375F
2. Quarter the Sausage links and cut sliced bacon slab in half.
3. Wrap each piece of sausage with ½ slice of bacon securing with a tooth pick.
4. Sprinkle Head Country Seasoning on top of the wrapped sausages. Place pieces on a sheet tray covered in parchment separating where any may be touching.
5. Place in a hot oven and allow 25 – 30 min. for cooking. Serve warm with ramekins' filled with Griffin's original syrup, Seikel's old style mustard and Head Country BBQ sauce
Sweet Barbeque Meatballs
1 (28 oz) bag Fast Fixin' Beef Meatballs
1 cup Garden Club Apricot Preserves
1 cup Head Country Barbecue Sauce
1. Prepare meatballs according to package directions. Meanwhile, combine preserves with barbecue sauce in a medium saucepan over low heat.
2. Stir and cook until well combined and warm.
3. Serve with cooked meatballs.
Tip: For easy entertaining, place all ingredients in a small crockpot, and cook on low, covered, until warm, glazed and delicious! Serve and enjoy!
Honey Lemon Drop Martini
2 oz. Prairie Wolf Vodka
Juice of one lemon
1 oz. Andrews Honey Bee Syurp
Sugar for rimming
1. Mix Andrews Honey simple syrup, vodka and lemon juice in a cocktail shaker with ice.
2. Rim a chilled martini glass with sugar and strain the mixture into the glass.
The Made in Oklahoma Coalition provides a marketing and promotional platform to assist more than 45 current Oklahoma food manufacturers. M.I.O.'s marketing programs build brand preference and loyalty for member products. Coalition-member companies create a positive impact on the Oklahoma economy by helping put more than 27,000 people to work. These member companies generate over 3.5 billion in annual sales for Oklahoma. Collective and cross-marketing programs, organized by the coalition, increase sales throughout the state, nation and abroad. The M.I.O Coalition continues to expand the footprint of Oklahoma's food processing sector through business retention and stable growth. M.I.O., Good for you. Good for Oklahoma. For more information visit http://www.miocoalition.com.
###