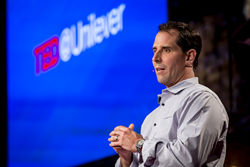 Yonkers, NY (PRWEB) December 04, 2014
Greyston, one of the country's leading social enterprises, was given the distinct privilege of participating in a recent global event jointly produced by TED and Unilever, which filmed a series of new talks to spotlight ideas, projects and insights that will contribute to shifting perspectives and imagining a brighter future.
Greyston Bakery President and CEO Mike Brady took to the TED@Unilever stage emphasizing the bakery's Open Hiring policy as a strong model for social justice, which addresses societal ills resulting from poverty and hunger.
"For years, we have been witnessing the decay of our communities from the loss of jobs, the ravages of drugs, and the failure of prison to make better citizens of people," Brady said at TED@Unilever's global event. "Economists estimate that this is costing society over $500 billion a year. Enabling the cycle of poverty in our country does not make sense."
For more than 30 years, Greyston has proudly maintained this unique practice at the bakery, offering employment opportunities regardless of educational attainment, work history, or past social barriers, such as incarceration. Anyone that comes to the front door of Greyston Bakery is given the chance to work - no questions asked.
Brady challenged other socially-minded businesses to consider adopting similar practices, including Open Hiring, individualized support to all employees, and awareness of environmental impact, to use the power of business to maximize positive change in society and boast consistently thriving economies.
"Greyston is proud to be recognized for creating job opportunities for those with barriers to employment," Brady said. "TED@Unilever was a great platform to inspire other change agents to do the same."
Greyston trainer Dion Drew then shared his moving story: With Greyston's help, he was able to overcome incredible obstacles and break the cycle of poverty. Drew recounted his experiences growing up impoverished, influenced by crime in his neighborhood, and time spent incarcerated for selling drugs to survive. Upon his release from jail, Drew found Greyston Bakery as a second chance at success in life, and is now saving money, supporting his daughter, and making his mother proud.
"When I started as an apprentice at Greyston Bakery six years ago, I never would have thought that I would be part of something as significant as TED@Unilever," said Drew. "I believe that if you are not part of the solution, you are part of the problem. I hope everyone views our talk as part of the solution."
Greyston's TED@Unilever talk can be viewed at https://www.ted.com/watch/ted-institute/ted-unilever/mike-brady-and-dion-drew-hiring-the-unemployable.
About Greyston:
Established in 1982, Greyston is a pioneer in social enterprise and serves nearly 5,000 individuals and their families annually. Located in Yonkers, the organization creates jobs for the hard-to-employ and provides integrated community development programs for individuals and their families to move forward on the path to self-sufficiency. Greyston's wide array of programs includes affordable housing, job training, a nationally-accredited child care, the Greyston Bakery, and a vibrant community gardens program.