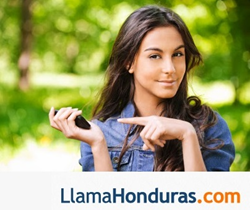 "Servicio garantizado y con rapidez." (Jose Irving Cruz)
Atlanta, Georgia (PRWEB) December 16, 2014
Hondurans worldwide can pull a double surprise on their relatives or friends in Honduras: recharge their Tigo prepaid cell phone and also send 200% free extra credit until December 31. The extra credit can be used for calls inside the network, plus all other networks, as well as calls to the USA and Canada. Bonus expires in 15 or 30 days according to the value recharged. More details are available in the Terms and Conditions on LlamaHonduras.com.
Bonus applies for mobile credit orders of minimum $6 and maximum $50 for top ups of prepaid Tigo numbers in Honduras. And to avoid top up jams and allow transactions to be easily processed, Tigo assigns different numbers to be recharged each day from Monday to Saturday, according to their ending digits. For example, on Monday people can recharge prepaid Tigo numbers ending in 0 or 1, while Saturday is dedicated to recharges of numbers ending in 9. This information is fully displayed within the Terms and Conditions on LlamaHonduras.com.
Anyone can use the service and benefit from the current promotion as soon as they open a free account on LlamaHonduras.com. The online form can be easily filled in, in less than 1 minute, and can be accessed from different devices: http://llamahonduras.com/buy/mobile_recharge
After having created an account on LlamaHonduras.com, anyone can recharge a mobile in Honduras or any other country from the list of destinations of over 100, using a PC or from the MobileRecharge app.
LlamaHonduras.com service is 100% transparent. Compared to other providers, the recharge value offered (the ratio price - amount) is most satisfying. In translation, the price is the lowest on the international market.
LlamaHonduras.com top up service helps people send mobile credit from their online account to someone's mobile in Honduras or any other country, or even their own mobile. It takes 1 minute at most to fill in the online form. The condition to be able to send a successful mobile recharge abroad, and benefit from all the bonuses or specials, is to be registered on LlamaHonduras.com.
Online top ups to Tigo mobiles in Honduras, and other countries as well, can be made with no hassle. The mobile credit gets instantly to the person it was sent to. It is also a quick alternative to money transfers or any other transfer of goods. According to old customers, making international top ups is a new trend that beats direct money transfers and other long-distance transfer of goods.
Customers label the service as "safe" and "quick," "convenient" and "efficient" on diverse review websites, among which Trustpilot:
"Los felicito excelente servicio y precios, por favor no cambien, con gusto recomendare amigos y familiares." (Orlando Raudales)
"Servicio garantizado y con rapidez." (Jose Irving Cruz)
Honduran expats can use LlamaHonduras.com to support their family and friends back home by making

LlamaHonduras.com is popular for:
Multiple services (Mobile Recharge and Voice Credit) and one account only
High top up value (order value & amount sent ratio)
Best deal for Voice Credit: low rates and many destinations, plus credit never expires
Instant mobile load
KeepCalling app for international calls and SMS
Easy online top up
Purchase time: about 1 minute
Clear and honest website information
Free account that never expires
Easy navigation and purchase from PC, tablet and mobile
Website accessible in both English and Spanish
Secure payments via PayPal, or using any major credit/debit card
Recharge history and other transaction details in the online account
Transparency of all communication via email and media news
Strong privacy (TRUSTe seal on the website)
What makes LlamaHonduras.com stand out from other services of the kind:
Lowest price and best deals regarding the value purchased as Mobile Recharge
Low rates on international calls and SMS
No hidden fees; all costs are displayed in the checkout
Easy online order-form
24/7 Support by email, phone and Help Center, in both English and Spanish; friendly and efficient customer care team
Frequent Promotions for both Mobile Recharge and Voice Credit users
All major cards and PayPal accepted for payments
Security certified by "Verified & Secured"
100% service fairness and correct privacy policy as certified by BBB and TRUSTe
Payment conditions are other strong points of LlamaHonduras.com. Rates are available in multiple currencies (USD, AUD, CAD, GBP, EUR), but customers can pay with any major credit/debit card or PayPal, no matter the currency selected. Cards that are accepted: Visa, MasterCard, American Express, Discover. Also, LlamaHonduras.com guarantees 100% transaction security and satisfaction.
Making top ups to Tigo mobiles in Honduras with LlamaHonduras.com has been established as a way for expats to help their family and friends at home. It is labeled by many fans of online international top ups as one of the best credit transfers on the market.
About LlamaHonduras.com
LlamaHonduras.com is website dedicated to supporting communication. LlamaHonduras.com is a brand of KeepCalling, a company registered in 2002 in the USA offering diverse services for expats worldwide. From the get-go, LlamaHonduras.com was conceived as a service focused on great recharge value and low rates for international calls, helping ethnic groups save money and benefit from high quality.
KeepCalling, the company behind the service, was listed as no.18 among the fastest growing telecom companies in the USA in 2014, with an increase of 506% from $6.7 million in 2010 to $41.0 million in 2013. KeepCalling provides numerous telecom solutions: mobile recharges (direct top ups, airtime credit or mobile load), Voice Credit for calls and SMS, Virtual Numbers (local numbers), monthly plans for different destinations, through various ethnic websites. Presently, KeepCalling serves hundred of thousands of consumers and businesses worldwide, with a high focus on customer satisfaction.