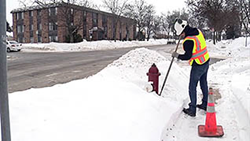 Novi, Michigan (PRWEB) December 05, 2014
As the seasons change, Mastery Technologies has announced the release of a new course, "Cold Stress: Working Safely in Cold Weather." Available on the Mastery's Video On Demand (VOD) platform, the course, originally produced by content network partner Aurora Pictures, helps ensure safety for those working or driving under inclement weather conditions.
"Cold Stress: Working Safely in Cold Weather" explores the effects of working in cold conditions, the hazards presented from working in cold weather, and how employees can protect themselves from maladies such as hypothermia and frost bite.
On average yearly there are over 5, 870,000 vehicle crashes, with about 23% of the crashes being weather- related. Mastery's winter weather preparedness courses educate employees on the impact weather conditions have on their ability to drive a vehicle safely. Courses, such as "Driving Safely in the Hazards of Winter," equip employees with the winter driving basics. Other lessons include how to stay alert and handle bad weather conditions while driving, as well as the cause and effects of driving in wind and fog.
The United States averages 1,301 deaths per year due to ailments related to the exposure of excessive natural cold, such as hypothermia. Courses such as "Working Safely in Cold Weather" and "Defensive Driving: When Good Weather Goes Bad" provide employees with instruction on the effects of cold stress, cold stress identification, the importance of wearing proper protective clothing and the impact of maintaining a solid diet in efforts to keep one's energy levels high.
The award-winning VOD3 platform provides continuity in user experience from one course to the next. All courses within the platform play on all devices and browsers, giving users the ultimate flexibility for when and where they can access their training assignments. Catering to large corporations and nonprofits alike, VOD course topics cover an organization's needs from safety to human resources.
For a complete list of winter weather Mastery courses or additional information visit http://www.mastery.com.
About Mastery Technologies Inc.
Mastery Technologies established the e-learning industry's first Training Content Network. Mastery partners with leading video content providers to co-produce the largest, standardized, workplace e-learning resource library available. Mastery goes beyond connecting customers with content, by pro-actively supporting both customers and content partners. In this way Mastery fulfills its mission of helping build more successful, effective and amazing organizations.