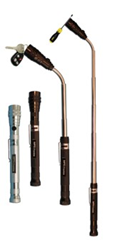 Must Have Stocking Stuffer Product
Lewisberry, PA (PRWEB) December 04, 2014
This Telescoping Extendable Flashlight has magnetic ends that can help illuminate hard to reach areas. In it's collapsed, out of the package form it's a perfect stocking stuffer fit. The magnet on the bottom can lift approx. 8 pounds and there is also a magnet on the light head that is very convenient for retrieving metal objects in hard to reach places. The product is very unique in the fact that it is like having three products in one. The device is an LED flashlight that extends to nearly two feet long offering extension, magnetism and light. This original Impeltronics Telescoping flashlight can only be found on its website (http://www.impeltronics.com) and current distributors.
Offered in black, silver, red, pink or blue, the flashlight is made from a company that has knowledgeable industry experience. Impeltronics, a supplier of high lumen flashlights for police, military, hunting, camping, tactical use, recreation and boating, designs products ready to survive and thrive under extreme conditions.
As Christmas fast approaches, not only are all of us dreaming of something special under the tree, many Corporations offer employee gift items for a "job well done." These LED Flashlights are offered in low volume with the Impeltronics brand name or customized logos making this an awesome employee gift reward.
Constructed from aluminum, the flashlight also has a stainless steel clip, as well as batteries so this tool can be used immediately. Perfect for keeping in a tool kit or putting in the back of a car or truck. The flashlight is also energy efficient and easily moved from one place to another.
Impeltronics, a wholesale manufacturer of high quality high lumen LED Flashlights, offers everyone a "strategic advantage against the darkness." Whether you're in search and rescue, hunting and fishing or in need of light and magnetism in any application, Impeltronics invites everyone to "Light the Way."
Please contact Impeltronics now so the Company can give a timely response. If ordering for Christmas, please order by noon on December 18th for guaranteed shipment before the holiday.
To learn more about this Extendable Flashlight contact Impeltronics directly.
or visit http://www.impeltronics.com
Company Contact
Michael Pastal
717-440-1680
mpastal(at)impeltronics(dot)com