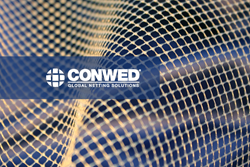 MINNEAPOLIS, MN (PRWEB) December 04, 2014
Conwed, the leading plastic netting manufacturer in the world, is now included in the reference directory of the IDA Desalination Yearbook 2014-2015. Published by Media Analytics Ltd., owner of media brands such as Global Water Intelligence, Desaldata.com and Water Desalination Report, the IDA Desalination Yearbook contains information from over 300 companies taking part in GWI's annual survey and a complete reference directory with suppliers serving the desalination industry.
From EPC Contractors and developers to suppliers and municipalities, the IDA Desalination Yearbook audience finds competitor intelligence, market analysis and leading suppliers for any water desalination project. It is distributed to International Desalination Association (IDA) Members and Water Desalination Report subscribers worldwide. "Conwed manufactures a complete line of high-quality feed spacers for reverse osmosis applications and by including our company profile in this water desalination publication we strive to communicate our role and performance in the filtration industry," said Ivan Soltero, Strategic Marketing Manager at Conwed.
Frequently known as scrim, mesh, net, or netting, feed spacers act as one of the layers of wound materials in Reverse Osmosis (RO) filters and provide vital separation between the membranes to achieve superior filter performance. The feed spacer, long considered a simple commodity, appears to offer vast potential for innovation and research that could drive advances in RO water production.
"Feed spacers have remained relatively unexplored in reverse osmosis development, but our Global Innovation and Technology team is proactively tackling challenges that were usually left only for membrane developers to solve. We work closely with our customers to help address challenges such as pressure drop, membrane damage and biofouling from a feed spacer development point of view," said Soltero.
In addition to feed spacers, Conwed also manufactures extruded cylinder tubes, extruded square and diamond netting, oriented netting and sleeves. Diverse filtration applications include containment and protection of filter media, pleat and media support and core support for pleated, wound or depth filter elements. With more than 45 years of experience developing netting solutions for diverse industries, Conwed has unique customization capabilities.
For a complete overview of Conwed in filtration applications, visit http://www.conwedplastics.com/filtration