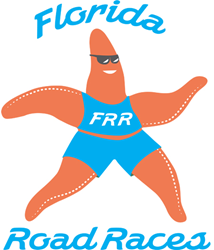 It has been incredibly rewarding for me to be able to grow a family business, and be part of the running community, who are some of the most positive people that I've ever met.
Clearwater, FL (PRWEB) December 15, 2014
While in an over-saturated race market, Florida Road Races, a family-owned and operated business, has cut through the glut and made a name for themselves. The 35-year-old company, owned and operated by husband-and-wife team Chris and Rya Lauber, will be responsible for staging four out of nine upcoming half-marathons in Pinellas County, as well as the only local 50K and marathon, thereby boosting sports tourism in the area while giving back to the community that the duo has called home for over 20 years. Florida Road Races has planned several upcoming events, including the 16th Annual Clearwater Distance Classic: 50K Ultra, Marathon, Halfathon, 5-Miler, 5K Walkathon on January 18, 2015 and the 6th Annual Florida Beaches Halfathon & 5K, Ft. De Soto Park on March 22, 2015.
Chris and Rya Lauber's marriage evolved into a successful business partnership two years ago when Rya left her job at Kobie Marketing, a St. Petersburg-based national loyalty marketing company, to work with her husband at Florida Road Races. Chris serves as the President and Race Director for Florida Road Races while Rya holds the Vice President and Creative Director positions.
Rya, a graduate of the prestigious Boston College, served as the Creative Director at Kobie Marketing for over 15 years. While at Kobie, Rya and her creative team received many national awards for marketing and communication design including the ADDY from the American Advertising Federation, accolades from the Direct Marketing Association, the Davey Award, and the Summit Award. Rya is responsible for the branding, advertising and media planning for Florida Road Races, and has helped grow the company since joining her husband at the family-owned company.
The Laubers have a vested interest in combining running events and community initiatives as part of a bigger effort to assist local non-profits in reaching their goals and maintaining steadfast growth and public awareness. Florida Road Races recently helped organize the One Step Closer to the Cure 5K/10K /1Mile Run/Walk held by the Celma Mastry Ovarian Cancer Foundation, which grew by more than 20% in 2014 – a growth which founding Chairwoman Claudette Carlan attributed to Florida Road Races's assistance.
Outside race cancellations, which can result in disappointed and displaced athletes who have gone through rigorous training to compete in them, have become so common that Runners World recently reported that the Road Runners Club of America (RRCA) has put together a "Buyer Beware" list, describing warning signs for prospective race entrants to watch out for - something which the Laubers hope to stray from. (2)
The Laubers have insisted on remaining runner-friendly, even instituting a fair refund policy. Florida Road Races also features attractive courses and unique amenities, including customized finisher medals featuring a "running starfish" designed by Rya, personalized bib numbers for participants, and gender-specific T-shirts.
Florida Road Races attracts participants from all over the country, allowing the Laubers to give back to the community by boosting sports tourism in an area dependent on the vital tourist dollars. With race courses showcasing the coastal community, Florida Road Races is able to stage destination races while generating economic impact for the local hospitality industry.
"It has been incredibly rewarding for me to be able to grow a family business, and be part of the running community, who are some of the most positive people that I've ever met," says Rya Lauber. "I am proud of my contributions to Florida Road Races – it's fulfilling to be able to apply my design skills to our running business and see how my contributions positively affect the area in which I live."
The growth of Florida Road Races proves that commitment to being an athlete-friendly race is what gets one across the finish line. The organization has grown from 635 participants in their first year to 6,366 participants over four races last year, allowing Florida Road Races to continue to give back to the local community.
About Florida Road Races:
Founded in Clearwater, Florida, in 2000, Florida Road Races is a family-owned race management company that creates, plans, markets and executes road races in Tampa Bay. Led by husband and wife team Chris and Rya Lauber, the company's mission is to promote a healthy, active lifestyle, as well as generate a positive economic impact for Tampa Bay's tourism industry and showcase the coastal lifestyle, while raising funds for worthy non-profits. For more information, visit http://www.floridaroadraces.com.
1. "Kobie Marketing: Number 4802 on the 2014 Inc. 5000." Inc.com. Inc. Magazine, n.d. Web. 17 Nov. 2014. inc.com/profile/kobie-marketing.
2. McCue, Matt. "June 7 Half Marathon Cancellation Is Latest by Race Director."Runner's World & Running Times. N.p., 4 June 2014. Web. 17 Nov. 2014. runnersworld.com/races/june-7-half-marathon-cancellation-is-latest-by-race-director?page=single.