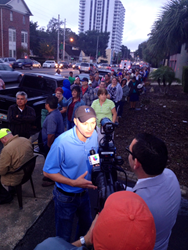 Orlando, Fla (PRWEB) December 08, 2014
In appreciation for clients, The Pendas Law Firm continued its tradition of giving back to the community. The firm met the needs of thousands of people and provided the turkeys to families most in need. For the sixth consecutive year, turkeys were distributed three days in a row, just before Thanksgiving to communities in Fort Myers, Tampa and Orlando.
"Our firm is blessed with outstanding clients, and dedicated employees too. Providing turkeys to families in need is our way of demonstrating appreciation in the communities in which we serve. It makes a really big impact for people and it gives us great joy to give," said attorney Lou Pendas, owner of the firm.
Said one turkey recipient, "I appreciate that you do this for us because there's a lot of people that don't have, that will have. It's really amazing that this company is willing to help us."
With 70 employees dedicated to offering extraordinary client service, The Pendas Law Firm is one of Florida's most prominent personal injury firms with offices located in Orlando, Tampa, Fort Myers, Jacksonville and West Palm Beach. The firm delivers solutions with personal injury cases, automobile accidents, slip & falls, medical malpractice, product liability, premises liability, insurance claims, wrongful death and whistleblower claims. More info: http://www.pendaslaw.com