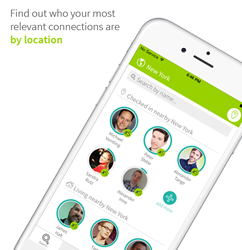 nextSociety, announces its institutional seed round of $1.6 MM USD
NEW YORK (PRWEB) December 10, 2014
nextSociety (xS), a professional networking startup, is excited to announce that it has raised an institutional seed round of $1.6 MM USD. The New York based startup has officially launched the new version of its network smarter app introducing city check-in, and ping communication for iOS on the App Store.
nextSociety is a professional networking tool that empowers users to make sense of their existing social networks by organizing and prioritizing their contacts. The network smarter app helps users focus on key social contacts based on their relevance, location and travel plans.
nextSociety raised an institutional seed round of 1.6 MM USD. The round was led by Mike Ventling, Dr. Axel Meyer and AC & Friends. It also includes a grant from the Austrian Research Promotion Agency (FFG).
"We are extremely excited about our new strategic investors. We are going to change the world of professional networking in 2015. I personally can't wait to see the new strategy getting into action." says Peter Stebe, CEO at nextSociety.
Mike Ventling, Global CFO of a multinational professional services firm says: "Business professionals need social media to work for them – to manage their business relationships and network more effectively. nextSociety leverages existing social networks to give professionals what amounts to a smart executive assistant in their pocket. It is always there to make sure their next connection is relevant and valuable".
xS helps professionals including recent graduates quickly identify the most relevant connections in their network based on their relevance, location and travel plans. By filtering connections based on relevance, xS allows users to categorize, organize and focus on staying connected with key contacts based on their location.
"The new app version is the easiest and most effective way to connect with the most important people in your location," says Alexander Tange, Head of Market & Growth at nextSociety. "It lets you quickly identify who is relevant for you, and when to check into a location to discover who in your network is around you. The new ping feature makes it easy to reach out and is following a market trend of a shorter and quicker means of communication."
With professionals in mind, the app is initially based on LinkedIn to focus on business connections. It's designed to maximize "same place, same time, same interest" opportunities within existing networks.
Ben Simsa, Head of Product & Operation at nextSociety says: "Future features will integrate additional social networks like Twitter and Facebook as well as allow check-in to conferences.
xS is currently available for iOS while an Android version is planned throughout 2015.
For more information visit nextsociety.com or download the app for free on the Apple App Store.
About nextSociety, Inc.
nextSociety focuses on enabling professionals to network smarter with its new network smarter xS app, that facilitates networking opportunities. The company is incorporated in Delaware and headquartered in New York City, with a development hub in Vienna, Austria. nextSociety presented its new mobile app for professional networking at the WebSummit in Dublin in November 2014. As a member of the Rackspace Startup program, nextSociety has been named a TechStars finalist in New York and London. For more information please visit nextSociety.com.