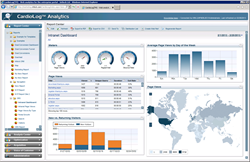 In every version release of CardioLog Analytics, you seem to include new and more interesting features. Nordson is definitely very satisfied and ranks CardioLog Analytics as a top grade SharePoint analytics solution
Boston, MA (PRWEB) December 15, 2014
How did Nordson Corporation leverage CardioLog Analytics to enhance their SharePoint portal needs? As a large enterprise, Nordson was searching for a streamlined solution to increase employee usage within their portal that hosts over 5,000 users. They specifically were interested in boosting their internal newsletter readership, which could then in turn initiate interest within the broader portal.
CardioLog Analytics stepped up to the plate, increasing Nordson's end-user engagement far beyond their expectations. The solution allowed them to track their portal goals including adoption, user engagement, and content optimization. They increased the readership of their company newsletter, and gained a greater understanding of their end-users interactions.
By utilizing CardioLog Analytics' sophisticated metrics and analytics, Nordson was able to transform their user adoption rates by monitoring visitor activity, usage, and tracking of portal navigation. The department employed CardioLog Analytics in ways that allowed them to situate articles, newsletter links, and accessibility to increase their usage and engagement reach. The members of the communication department created a step-by-step plan in order to optimize their portal design so that it was in conjunction with the company's IT department and the SharePoint administration team.
Jerry Bendobler, who is responsible for Nordson IT management and SharePoint administration and management indicated that the value of CardioLog Analytics is excellent.
"One function of our intranet is that it acts as an information portal for employees, handled by our corporate communications department. They were challenged to find a tool that would increase readership and viewership of the employee section, with the objective to increase overall adoption rates. These rates have statistically increased since the use of CardioLog Analytics began.
We needed to look outside for a tool that would provide integration with SharePoint and provide the insight we needed to increase traffic and understand what kind of compelling information should be available in the portal. The tool is convenient and easy to use. The reports are easily accessible and innovative. They collect the data that provides us with the information we require".
Click here to download the full story.
Interested in learning how CardioLog Analytics can help your organization's portal optimization? Click here to request a personal demo.