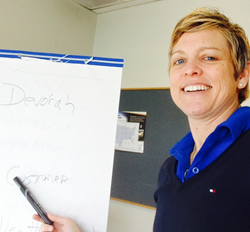 Devorah...further establishes herself within the Suddath organization as the torch bearer for quality and training."
Jacksonville, FL (PRWEB) December 04, 2014
The Suddath Companies is pleased to announce that Devorah Allen has earned the Certified Professional in Learning and Performance® credential from the Association for Talent Development Certification Institute (ATD CI). Becoming a CPLP provides credibility by recognizing that an individual has an overall understanding of the ten areas of expertise for talent development as defined by the ATD Competency Model™, and can apply this knowledge in the workplace.
Allen joined Suddath® in December 1999 as an international relocation counselor and became quality manager in 2006 with a promotion to senior manager of quality and training in 2012. She holds a Six Sigma Green Belt in quality and master's degree in business from California State University in Long Beach, CA. Her responsibilities include training to best practices internally as well as establishing quality benchmarks for domestic and overseas agents for Suddath International. Allen is also responsible for maintaining all of the quality certifications for Suddath including ISO 9001:2008, C-TPAT, the Customs-Trade Partnership Against Terrorism, and many more.
Clearly passionate about her work, Allen was most concerned about juggling her workload with the demands this certification process brought, "Suddath supported me throughout the rigorous coursework and prep time required. It shows they are committed to training, development and learning performance for all their employees. This certification gives me confidence about putting this body of knowledge to use for the benefit of our 2,000 employees across the globe."
Suddath Vice President of Strategic Development, Michael White, agrees, "Devorah has made significant contributions in employee training and development. By obtaining this prestigious certification, she further establishes herself within the Suddath organization as the torch bearer for quality and training."
About The Suddath Companies
Established in 1919 and headquartered in Jacksonville, Fla., The Suddath Companies is a diversified group of domestic and international service companies. Its affiliates specialize in warehousing and logistics management, worldwide household goods relocation, office moving and workplace solutions, trade show and exhibit displays, and specialized transportation. http://www.suddath.com
Suddath operates moving and logistics facilities in the following 22 major markets across the United States: Atlanta; Charlotte, N.C.; Dallas/Fort Worth; Flagstaff, Ariz.; Ft. Lauderdale, Fla.; Houston; Jacksonville, Fla.; Los Angeles; Melbourne, Fla.; Miami; Milwaukee; Minneapolis/St. Paul; New York/New Jersey; Orlando, Fla.; Phoenix; Portland, Ore.; San Francisco/San Jose, Seattle; Tampa/St. Petersburg, Fla.; The Villages, Fla.; Tucson, Ariz.; Washington DC/Baltimore.