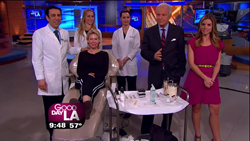 Los Angeles, CA (PRWEB) December 05, 2014
On November 17, 2014, Harper's Bazaar Magazine posted an online article titled "What are Chemical Peels?" that defines what a chemical peel is, explains the purpose they serve, and differentiates between superficial, medium depth, and deep peels. Chemical peels can be used to treat fine lines and wrinkles, melasma, sun damage, acne, and hyperpigmentation. (see: goo.gl/8PRrYV)
"I tend to avoid deep peels," says Dr. Simon Ourian, Medical Director of Epione Beverly Hills. "I find that we can get superior results with fewer complications with our CoolFrax and Coolaser treatment protocols."
According to the Harper's Bazaar Magazine article, chemical peels work by inducing the skin's injury response to promote the growth of new skin. Salicylic or glycolic based peels are used to target only the topmost layers of the epidermis. Medium depth peels may use trichloracetic acid (TCA) or Jessner's solution to achieve penetration to the deeper layer of the epidermis. Medium depth peels can help reduce pigmentation and freckling. Deep peels can be used to treat moderate to severe sun damage and wrinkles but carry the greatest risk of hyperpigmentation and scarring.
"As noted in the article, higher strength peels should be performed by a trained professional," says Dr. Ourian. "There are many factors to consider when choosing the type of peel and the duration of the treatment."
Dr. Ourian has been a pioneer in laser technology and non-invasive aesthetic procedures including Restylane, Juvéderm, Radiesse, Sculptra, and CoolSculpting. These treatments are used for the correction or reversal of a variety of conditions such as acne, acne scars, skin discoloration, wrinkles, unwanted fat, stretch marks, varicose veins, cellulite, and others. More information about laser chemical peels can be found on Epione's website.