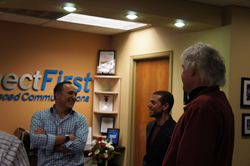 We want people to know what all you folks are doing and the fact that you've won this award and how proud we are of you
Boulder, CO (PRWEB) December 05, 2014
Boulder Mayor Matt Appelbaum spent the day at Connect First headquarters on Wednesday to celebrate the software vendor's 2014 Colorado Companies to Watch award. With over 1,200 applicants, Connect First was one of only 49 Colorado companies to receive the recognition. Colorado Companies to Watch (COCTW) recognizes growing companies that are fueling the economic fire of the state. Specifically, COCTW recognizes Colorado companies that develop valuable products and services, create quality jobs, enrich communities, and create new industries throughout Colorado.
"Colorado Companies to Watch is a great group to be a part of," said Boulder Mayor Matt Appelbaum. "To say that companies in the city of Boulder have done better than anybody else would be a gross understatement. For a city of 100,000 people, we've won 25% of the awards.This is really astonishing. We're recognized across the country."
Mayor Appelbaum continued, "We want people to know what all you folks are doing and the fact that you've won this award and how proud we are of you."
Connect First gained recognition in 2013 by ranking atop an independent industry-wide customer satisfaction report by DMG Consulting. Connect First continued on to win multiple awards, including the 2013 APEX Customer Service Award and the 2013 PACE Technovation award for "Connect First Safe." Recently, Connect First received CUSTOMER's 2014 Contact Center Technology Award for IVR Studio and was nominated for APEX's 2014 Company of the Year award. Connect First CEO, Geoff Mina, was also a recent nominee for APEX's 2014 Entrepreneur of the Year award after being named as one of Colorado's Top 25 Most Influential Young Professionals. Even more impactful than their award-winning products and customer service is Connect First's impact on the Boulder community. Connect First has made a significant impact on the community through the Connect First Foundation, which has donated substantial amounts of money and supported a variety of charitable events.
About Colorado Companies to Watch: Colorado Companies to Watch is a unique, statewide awards program recognizing growing companies that fuel the economic fire of the state. Colorado Companies to Watch honors companies that develop valuable products and services, create quality jobs, enrich communities, and create new industries throughout Colorado. The Colorado Office of Economic Development and International Trade launched the program in 2009 in conjunction with the Edward Lowe Foundation and valuable community partners from across Colorado.
About Connect First: Connect First is an award-winning SaaS telecommunications and cloud contact center software provider that focuses on customer satisfaction and elegant hosted solutions. Connect First offers a robust platform, designed and supported by a team of highly experienced engineers, designers and business analysts, and backed with personalized in-house customer care. Solutions include Cloud Routing, Inbound ACD, Outbound Dialing, Call Tracking, Interactive Voice Response (IVR), Voice Broadcast, Disaster Recovery, Predictive Dialer, Real-Time Telemetry, CDR Reporting, Live Agent Chat and more. Through a consultative approach with each customer interaction, Connect First builds customized solutions to meet the needs of a discerning customer base. Visit http://www.connectfirst.com for more information or a free consultation with a contact center solutions expert.