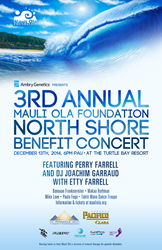 "We are delighted to sponsor the Mauli Ola Foundation to promote education, awareness of genetic disease and to increase research for genetic disorders," says Michael Fedele, Owner, The Pinnacle Group
Stamford, CT (PRWEB) December 05, 2014
Mauli Ola Foundation's 2014 national Ohana Tour winds up on the North Shore of Oahu, involving pediatric hospital visits and Surf Experience Days to help those with cystic fibrosis. First off, a big shout-out to the Mauli Ola Foundation (MOF) Ohana that supported this year's tour: Sunny and Stone Garcia, Teddy Navarro, Nissen Osterneck, Kala Alexander, CJ Kahnua, Nathan Hedge, Todd Holland, Will & Cliff Skudin, Gavin Beschen, Jason Magallanes, Kiana Fores, Sage Erickson, Michael Dunphy, Ben Bourgeois, Sam Hammer, Richard Schmidt, Allen Sarlo, Morgan Faulkner, Hans Hagen, Brian Ortega, and many others.
Pipeline Master Jamie O'Brien will host the final 2014 Surf Experience Day on Sunday, December 8th from
9am-12pm. Participants will meet at Haleiwa Ali'i Beach Park for surf lessons from their favorite professionals. Surfers that have attended before include: Sunny Garcia, Kala Alexander, Kalani Robb, the Ho brothers, Jason Magallanes Gavin Beschen, Jack Freestone, Carissa Moore, Torrey Meister, Alana Blanchard, Rochelle Ballard, Mark Occhilupo, Kelly Slater, and the dearly missed legend, Buttons Kaluhiokalani.
MOF surfers will also be at Camp Mokule'ia, providing an Ocean Experience Day for cancer patients and survivors on December 6th from 1-5pm. MOF is partnering with Ambry Genetics (for the fifth year in a row)
to support the 3-day camp that helps local Hawaiians facing the challenges of cancer. Campers will spend
time with professional athletes surfing, swimming, kayaking, and more.
Last but not least, MOF is very excited to announce its 3rd Annual Mauli Ola Foundation North Shore Benefit Concert, presented by Ambry Genetics. MOF invites supporters to come together with the world's greatest surfers, personalities, humanitarians, and industry leaders on December 13th at Turtle Bay Resort. A gourmet dinner and headliner entertainment are planned, including Perry (of Jane's Addiction) & Etty Farrell with Joachim Garraud, Donovan Frankenrieter, Makua Rothman, Mike Love, Paula Fuga AND Tahiti Mana Dance Troupe. This event raises awareness and funds to support MOF's mission of introducing surfing as a natural therapy for those with genetic disorders. Special thanks to platinum sponsor The Pinnacle Group and Turtle Bay Resort, aklnowlegements go to Pacifico beer, Barefoot wines all the event guests your support is paramount to our program. To purchase tickets visit http://www.mauliola.org.
"It's my favorite time of the year "says Kala Alexander MOF Vice President "It feels good to end our MOF season during the Vans Triple Crown while the surfing world is on the North Shore ."
"We are delighted to sponsor the Mauli Ola Foundation to promote education, awareness of genetic disease and to increase research for genetic disorders," says Michael Fedele, Owner, The Pinnacle Group
Special thanks to our supporters that have made our mission to support these families possible. None of this would have been possible without the vision of Charlie and James Dunlop of Ambry Genetics, and a huge thanks to our national partners Flexfit, Chiesi, Da Hui and GoPro.
For more information about the Mauli Ola Foundation and to sign up for any events, visit http://www.mauliola.org.