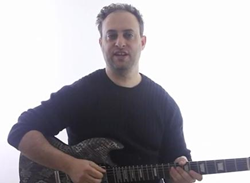 Here is another chromatic lick for you, I got this one from Guthrie Govan
(PRWEB) December 04, 2014
GuitarControl.com released a new video guitar lesson from GuitarControl.com instructor and creator Claude Johnson. In this guitar lesson, now available on YouTube.com, Claude Johnson teaches part 2 of a lesson on chromatic licks.
"Here is another chromatic lick for you", says Johnson, "I got this one from Guthrie Govan". Claude demonstrates this lick based out of the B minor pentatonic scale with added chromatic elements as follows. 10th fret of the 2nd string with 4th finger and bend up one whole step and then to the 7th fret of the first string with first finger. Next Johnson ascends from the 7th fret to the 8th, 9th and 10th frets with 2nd, 3rd and 4th fingers and then descends back down the same notes and then moves to the 2nd string and repeats the same sequence. Claude finally ends with a bluesy phrase on the 3rd string based on the pentatonic notes. Guitar TAB's are available for this easy lead guitar lesson at GuitarControl.com.
The Chromatic Scale is a scale that uses 12 pitches each of which are one semitone above or below one another. Each semitone is the same size, 100 cents, and is equally spaced from one another.
A Pentatonic Scale is a musical scale with five notes per octave and is very common and found all over the world.
Guthrie Govan, a native of Chelmsford England, is best known for his stent in the band "Asia" from 2001 to 2006. He began playing guitar at age 3 and was offered a record deal with Mike Varney's Shrapnel Records at age 20 but declined the offer. Govan has been a guitar instructor since the late 90's for The Guitar Institute in Action, the Academy of Contemporary Music, Thames Valley University, and currently at Brighton Institute of Modern Music. Guthrie's song "Waves" is from his album "Erotic Cakes".
Claude Johnson
Claude Johnson, a native of Philadelphia PA, began playing guitar in 1990 after being inspired by players like Jimi Hendrix, Eric Clapton, and Stevie Ray Vaughn. He is the creator of GuitarControl.com and has helped 1000's of people to learn to play the guitar with his critically acclaimed instructional DVD courses, all available at GuitarControl.com
About GuitarControl.com
GuitarControl.com is the leader in modern guitar instruction. It's packed with recourses including articles, video lessons, and the best videos in the business for the beginner to the advanced guitar student taught by the best instructors out there. Weather you are into the blues, rock, jazz, metal, folk, or anything in between, they have you covered.