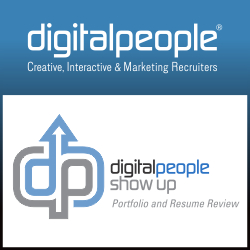 Minneapolis, MN (PRWEB) December 04, 2014
Creative, interactive, and marketing professionals are invited to attend Digital People's Show Up event, a free portfolio and resume review, on Thursday, December 18 from 5:00pm to 8:00pm at Fulton Brewery. Digital People, a staffing and recruiting firm within the Atterro Human Capital Group, created the Show Up series to help area job seekers and freelancers within the creative industry. The casual format of the events has proven to be successful, with many past attendees reporting that they received helpful advice that led to job interviews and offers.
The next event in this popular series will allow attendees to network with top interactive professionals in the Twin Cities. On the evening of December 18, attendees are invited to bring their online or offline portfolios and resumes for evaluation by the following review panel:

Chris Weber | Creative Director, MoCo
Brigette Dahlberg | Co-founder/UX Advocate, PureXRD
Heather Olson | Marketing and Recruitment Expert for Design, AIGA Fellow
Steve Wallace | Senior Partner, VP of Strategy & Planning, MEG
Catherine Dettloff | Director, Digital Agency
Matt McCoy | Creative Director, Prolitho
Bill Roden | SVP, Executive Creative Director, Mithun
In addition, recruiters from Digital People will provide resume writing and portfolio building tips. The recruiters and panel of experts know the industry and what will impress hiring managers.
The event will take place at Fulton Brewery, located at 414 6th Avenue North in Minneapolis. Attendees may check in and mingle, beginning at 5:00pm. At 6:00pm, Tony Biel, vice president of Digital People, will address all attendees. Individual portfolio and resume reviews will follow from 6:15pm to 8:00pm. Each review will be 15 minutes. Attendees can enjoy refreshments and food from Fulton Brewery and Simply Steve's food truck, for purchase.
Atterro Human Capital Group offers interim staffing, search and SmartSourcing services to local, regional and national customers. Atterro's experienced industry professionals utilize the latest research, recruiting technology and assessment tools to serve clients through its six specialty brands—Blue Edge RPO for Recruitment Process Outsourcing, Digital People for Creative, Interactive and Marketing, Hunter Hamilton for Finance and Accounting, Pro Staff for Administrative and Light Industrial, Technical ProSource for Information Technology, and Ware Technology Services for Engineering. Visit http://www.atterro.com.
Contact:
Susan Y. Rylance
Senior VP - Marketing
email: Susan.Rylance(at)atterro(dot)com
ph. 612‐373‐2600
Atterro Human Capital Group
651 Nicollet Mall, Suite 525
Minneapolis, MN 55402
atterro.com