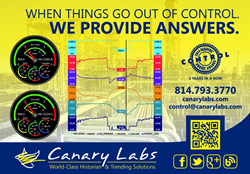 There are no holes in your data.
Martinsburg, PA (PRWEB) December 08, 2014
Canary Labs announces the release of Version 10.1 of the Enterprise Historian and Axiom Product lines. Many new features have been added and current features updated for easier use. The Historian data collection modules have been enhanced to upgrade the "Store and Forward" (SAF) features of the product with no increase in cost. For years Canary Labs has been known to provide reliable data thanks to the store and forward features built in the product for many years, utilizing a memory cache system. It is because of this that Canary Labs customers are frequently making comments like, "It just works" and "There are no holes in your data." Many customers install and then forget about managing the data logging applications because of the reliability of Canary Labs products.
The updated "Store and Forward" (SAF) gives the user more capabilities by enhancing those remote applications where communications may be intermittent and slow at times. This version hard commits the data to the local disk cache and confirms validation from the Enterprise Historian before removing data from the local disk cache. Communications between the "Sender" and "Receiver" services have also been upgraded to use WCF protocol instead of DCOM protocol to provide firewall friendly service. As part of the upgrade, users can choose to use multiple "Senders" to push data to a centralized "Receiver" historian or to multiple historians depending on the needs of the project.
With this update, a customer's data remains safe with completeness of data, delay tolerant communications and data accuracy. The "Sender" and "Receiver" services status can now be viewed with a browser. Another new feature added to the Canary Logger application is that it now automatically uses these new SAF features without any changes to existing Canary configurations. For more details on this feature, check out the latest Canary U video.
For third party applications that want to write data to the Canary Historian through SAF services, API documentation is available along with Helper class and example code. Also provided is a tool that allows data transformation on input.
Other improvements that have been added to the product line are: a statistics table has been added to Axiom, calculations incorporated into the Canary Web service (these are available to 3rd party applications that use web service), the Canary Excel Add-in has been improved with an easier interface, and some general fixes and web service performance improvements have been made utilizing multi-threading techniques. These enhancements can be viewed through the Canary U training videos available on the Canary Labs YouTube Channel. More product videos are constantly being added so check the site frequently for new updates.
About Canary Labs:
Canary Labs provides Enterprise Historian and trending solutions that simplify and optimize data analysis driving more informed, confident decisions. Leading companies worldwide rely on Canary Labs open, flexible and high performance software to improve process metrics and increase the agility, efficiency and reliability of data access. With a reputation for stellar service and support and minimal cost of ownership, Canary Labs ensures customer success to a client base with over 14,000 installations in 26 countries. Headquartered in Martinsburg, Pennsylvania, Canary Labs is dedicated to the development of high performance historian and trending software and solutions. To learn more about Canary Labs, please call 814.793.3770 or visit http://www.canarylabs.com.