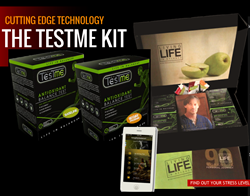 Living Life In Balance programs can help any business understand stress levels and learn how to do more of what's good and less of what's bad
Jersey City, Nj (PRWEB) December 04, 2014
Living Life in Balance today announced the first and only stress reduction and wellness program powered by the TestMe Kit, based on the same award-winning technology and antioxidant monitoring developed twenty years ago by Fluitec with the RULER View.
"We're very excited about this program and what it can mean to both companies and employees who want to have a clear understanding of oxidative stress and how harmful it can be," Jefferey Cornett, Director of Global Marketing, said. "This provides not only the best measurement test available but also the information and insights needed to help people do more of what's good and less of what's bad for them in order to lower free radicals and improve health.
Living Life in Balance is a complete, turn key, customizable content rich antioxidant measurement and monitoring program that provides accurate testing, engagement and enlightenment to give businesses and individuals the means of finding solutions to oxidative stress and increasing productivity.