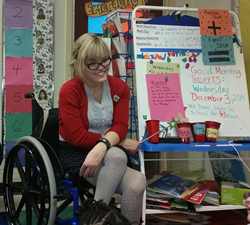 I've been in a wheelchair all my life, and I don't let it stop me from doing anything.
TAMPA, FL /WASHINGTON D.C. (PRWEB) December 24, 2014
"I've been in a wheelchair all my life, and I don't let it stop me from doing anything," Carolyn Diaz says. Truer words have never been spoken. Carolyn has Larsen's Syndrome, an inherited condition that affects the development and function of joints throughout the body. Her father also shares the same diagnosis.
Carolyn hasn't let her condition stop her from setting high goals for herself. She has maintained a job all her adult life, but in 2009, she knew she needed help to stay in the workforce. "I was in a situation where I was going to be unemployed," Carolyn said. "I found myself in a bad economy, with no employment prospects, so I turned to VR for help."
Reaching out to Vocational Rehabilitation (VR) turned out to be the right move. Carolyn was paired up with her VR Counselor, Kate Seipp, to come up with a plan to keep Carolyn working. "I met Kate in the summer of 2009, and she worked hard to get me approved and off the waiting the list," Carolyn says.
Kate worked with Carolyn to help her find the right career path. They decided pursuing a job as a teacher would be both fulfilling and attainable for Carolyn. "We assisted with counseling and guidance," Kate says. "VR paid for a year of education credits, which led to Carolyn's certification as a special education teacher. VR also purchased a wheelchair for her and helped with making accommodations to her home and modifications to her car."
Carolyn knows that without help, achieving her goal of becoming a teacher wouldn't have been likely. "It wouldn't have been financially available to me if VR hadn't stepped in," Carolyn says. "I couldn't have done it without VR's help."
She is especially grateful to Kate for her individualized plan and guidance. "Kate was amazing," Carolyn says. "She got everything approved that I needed."
Equipped with her special education certificate, Carolyn first landed a job as a high school teacher in Tampa in 2011. In 2013, she decided to move to Maryland, just outside of Washington D.C., and continue her teaching career with the Prince George's County Public School System. "I teach foundational reading and math skills to elementary school students with disabilities," Carolyn says. "Teaching is very challenging but it's also rewarding."
She says having a disability gives her an advantage in the classroom. If a student is complaining about his circumstance, she tells him her story and explains how VR helped. She enjoys sharing her story with the kids and their families.
Carolyn is in her second year as First Runner-up in the Ms. Wheelchair Maryland competition, and while she is at home in the classroom now, Carolyn plans to use her teaching experience to pursue a career in disability advocacy, long-term. She enjoys being a living example of how someone with a disability can turn it into a positive and be a productive member of the workforce. She's always ready to offer advice to students with disabilities looking to plan their career paths.
"It's important to do the research first about the amount of opportunities in a field before going to school," she says. "Pick a stable field, because we have more barriers than the average person. Be realistic about your disability, and advocate for yourself every step of the way. If you're not advocating for yourself, no one else will." Carolyn's students can count on the fact that as long as she's teaching, they'll have an advocate fighting for them every step of the way.
About Vocational Rehabilitation
Florida's Vocational Rehabilitation (VR) is a federal-state program committed to helping people with disabilities become part of America's workforce. Our employer-focused website, http://www.FLJobConnections.com, allows businesses to search at no charge for employees who are ready to go to work, as well as to post available jobs. VR has 89 offices across Florida, and last year helped 7,214 Floridians with significant disabilities find or keep a job. For more information about VR and its services, call (800) 451-4327 or visit http://www.Rehabworks.org.