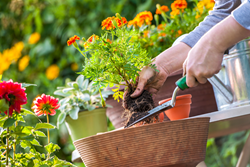 These marketing tips for landscapers were developed to help landscapers keep current customers and gain new leads without a lot of extra work.
(PRWEB) December 05, 2014
GetUSales, a leader in Infusionsoft packages for landscapers, has just released an informative blog titled, "5 Marketing Tips for Landscapers." Read the full blog here.
In the blog, the author discusses five ways that landscapers can increase their businesses through effective marketing, including online marketing, automated marketing systems like Infusionsoft, and taking cues from sales psychology to draw in new customers and keep current customers happy.
Landscaping Marketing Tip #1: Focus on Current Customers
Current and past customers are more likely than any other demographic to hire a company again. Landscaping is not a service people only need once, which is a big plus for landscapers. When businesses establish long-term customers, they can count on long-term profits and less anxiety about the health of their landscaping business.
Most companies already have their customers' contact info. Regular mail and telemarketing are no longer the best ways to market to customers. But email marketing is a great hands-off way of keeping a company's brand in front of its current customers.
Landscaping Marketing Tip #2: Stay in front of customers
Increase brand recognition with any form of advertising. Billboards and print ads can be pricey and out of reach of many small landscaping businesses. But email marketing is inexpensive and provides tangible ROI. A business can send out thousands of emails for the same price as a single newspaper ad.
Landscaping Marketing Tip #3: Convince undecided customers that they'll love having a landscaper
To convince those ambivalent potential customers that landscaping is actually a service they will appreciate, education is the answer. Email marketing is a great way to send out informational emails to educate potential customers on the benefits of having a landscaper.
Landscaping Marketing tip #4: Not all marketing should be "marketing"
Advertisements are everywhere today, and many people are adept at tuning them out. That's why educational, humorous or sentimental ads work very well to capture the public's attention. Send out holiday emails or educational reports to contacts, and they'll remember the company (out of many others) who was thoughtful enough to send them information they could use.
Landscaping Marketing Tip #5: Always include a contact button
Any advertising material of any kind should always include contact information. Even better, any online marketing, such as automation emails, can include a "Contact" button that links them directly to a company website. The fewer and easier the steps it takes to contact a business, the more likely a customer will do just that.
GetUSales helps landscapers market themselves without breaking the bank
GetUSales' Tony Bass Landscaping Success Automation Package helps landscapers tap into the benefits of marketing automation without the hassle and expense of creating their own campaigns from scratch. For more information or a free demo, call GetUSales today at 855-834-4850 or visit http://www.GetUSales.com.