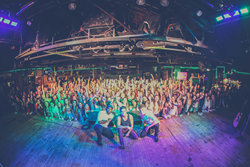 I've been rehearsing with my dancers from Beat Club Crew and can't wait for the fans to see us live! I'm just so very thankful to my amazingly loyal fans – they make it possible for me to perform at these incredible places"
New York, NY (PRWEB) December 05, 2014
December is going to be a busy month for Zach Matari. The Jersey born singer/ songwriter/ musician is hitting the road again, this time traveling to the southern states for the final leg of the "Out Late Tour!"
The "Out Late Tour" will feature headliner Jacob Whitesides and special guests Zach Matari and Dylan Holland. The tour will make stops across many southern states. It kicks off December 6 in San Antonio, Texas and will make stops in a total of 10 cities (listed below).
Dec 06 Sam's Burger Joint San Antonio, TX
Dec 07 House of Blues Houston, TX
Dec 09 House of Blues Dallas, TX
Dec 10 Juanita's Little Rock, AR
Dec 11 Rockettown Nashville, TN
Dec 13 Backbooth Orlando, FL
Dec 14 Culture Room Fort Lauderdale, FL
Dec 17 Orpheum Tampa, FL
Dec 18 1904 Jacksonville, FL
Dec 19 The Beatnik New Orleans, LA
Zach recently released his original single "Up To You" on iTunes and plans on releasing his first album spring 2015.
Click on this link to watch Zach's live performances from The Gramercy Theatre in NYC.