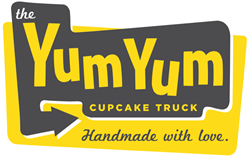 Orlando, FL (PRWEB) December 04, 2014
'Tis the season to indulge, and now Central Florida's beloved and original mobile purveyor of sweetness, The Yum Yum Cupcake Truck Company, is giving trusty fans and tasters the opportunity to bring the delicious treats off the truck and into their kitchens with all new "Yum Yum Mixes" available this holiday season. Starting Monday, December 8 and continuing through Saturday, December 24, Yum Yum will feature Yum Yum Mix in "Mocha Merry Mint" (mocha cake with hints of coffee and peppermint) and "Snowball Effect" (chocolate cake with fresh coconut shavings) packaged in quart-sized mason jars with recipes and frosting included. Sold at $20 per mix, each will yield one dozen cupcakes or an 8-inch cake. Mixes will be available on the truck and also for pick-up at The Yum Yum Cupcake Truck Headquarters.
"We are very excited to finally offer Yum Yum Mixes to all our loyal fans and supporters, and we hope to gain many new ones," says The Yum Yum Cupcake Truck Owners Rak and Paula Sharma. "From our wide variety of fun, tasty and original flavors to our can't miss classic trucks, Yum Yum has been a staple in Central Florida, and we look forward to spreading all the fun and sweetness we deliver here at Yum Yum into people's very own homes."
Since opening in 2012, The Yum Yum Cupcake Truck has quickly captured the hearts and taste buds of Central Floridians. Orlando's original mobile purveyor of sweetness, each batch of The Yum Yum Cupcake Truck's over 60 rotating fun-named flavors, like The Dough Dough Bird and The Ballad of El Churro, are made-from-scratch, always fresh daily and with only real ingredients. Yum Yum features 12 flavors on the trucks including a Gluten free/Vegan option. All flavors are inspired by old family recipes and vintage Americana giving each taster a blast from the past. The Yum Yum Cupcake Trucks iconic aluminum finish and yellow and white stripes can be found all over Central Florida always with a bowtie clad cupcake server inside to greet and take your order with a smile. Along with trucks, Yum Yum specializes in catering services for corporate, charitable, social and all special events, plus Yum Yum offers private truck rentals to create an authentic food truck experience at your next event.
For more news and information on menu selections, pricing, truck schedule and locations and "Yum Yum Mixes" visit http://www.theyumyumcupcaketruck.com, http://www.facebook.com/theyumyumtruck or call 407-494-9336. Yum Yum Headquarters is located at 1829 Talokas Avenue, Orlando, FL 32805.
###
Media Contact: Ilene Lieber, 321-277-7812, ilene(at)passionprconsulting(dot)com