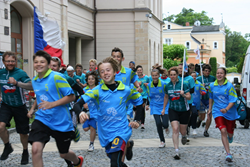 When we started, I knew this program had the potential of saving countless lives. It has. And that's why I've never given up my fight against drugs.
(PRWEB) December 04, 2014
In keeping with the purpose of International Volunteer Day, December 5, throughout December the Church of Scientology International is honoring volunteers who are making a difference. One such volunteer is Vlastimil Spalek who is carrying out a personal crusade to reach youth with the truth about drugs.
More than 700 Czech Republic mayors, town councilors, and government officials have endorsed the volunteer movement created by volunteer Vlastimil Spalek. Spalek's unique meld of sports and drug education reach at-risk Czech youth with the facts they need to make self-determined decisions to live drug-free lives.
In the 1990s, after the fall of communist rule, along with the new sense of freedom came a new and deadly problem: drug abuse. In 2008, Huffington Post reported that of 483 meth labs in Europe, all but 26 were located in the Czech Republic.
Passionate about helping youth, in 2003, Spalek, an avid athlete, created a national sports event called "Run for a Drug-Free Czech Republic." He and his team of marathoners ran from city to city, educating youth on the harmful effects of drugs and inviting young people to channel their energy into sports.
The success of this venture inspired Spalek to launch an annual Drug-Free Czech "Cyclorun" in which volunteers run and bike throughout the country each summer. Cyclorun athletes have crisscrossed the Czech Republic, traveling more than 10,000 miles to hold events in schools, town squares, and sports stadiums to distribute more than 800,000 copies of the Truth About Drugs materials.
Since the Cyclorun began, drug usage rates across the Czech Republic have decreased. "That's what's really important," says Spalek. "When we started, I knew this program had the potential of saving countless lives. It has. And that's why I've never given up my fight against drugs."
Spalek hopes his story will influence others to volunteer. Because changing the world is a big job, but we can. Together.
Secretary-General Ban Ki-moon has described volunteerism as "a two-way street. Even as volunteers help generate positive change for others, their own lives are often transformed by the act of volunteering itself."
The Church of Scientology-sponsored The Truth About Drugs education and prevention initiative is driven by the dedicated work of volunteers. To make this and the other humanitarian and social betterment initiatives it supports even more broadly available, the Church of Scientology has published a new brochure, Voice for Humanity—Real Help, Real Results.
Inspired by the words of Scientology Founder L. Ron Hubbard, that "a being is only as valuable as he can serve others," Scientologists wholeheartedly support these programs. Participation and collaboration in these initiatives is invited and welcomed from all who seek to improve conditions for themselves and others.
For more information, visit the Scientology website at http://www.Scientology.org/how-we-help/voice-for-humanity.