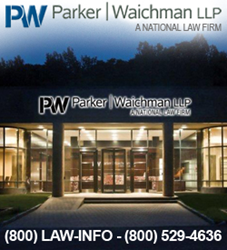 "Patients and physicians rely on safe and effective medical treatments," says Gary Falkowitz, Managing Attorney at Parker Waichman LLP. "Patients and doctors need to know whether, and to what extent, certain types of treatments may be dangerous."
Port Washington, New York (PRWEB) December 04, 2014
Parker Waichman LLP, a national law firm long dedicated to protecting the rights of victims who have been injured by medications, comments on a new draft guidance document issued by the U.S. Food and Drug Administration (FDA) that calls for revised labeling for all acetaminophen-containing over the counter (OTC) medications. The new label should contain a statement that warns consumers about risks of serious skin reactions, according to a December 1, 2014 report by the Regulatory Affairs Professionals Society(RAPS).
The new guidance, entitled "Recommended Warning for Over-the-Counter Acetaminophen-Containing Drug Products and Labeling Statements Regarding Serious Skin Reactions," follows a 2013 warning by the FDA that indicated that the drugs are tied with increased risks for developing serious skin reactions, specifically Stevens-Johnson Syndrome (SJS), toxic epidermal necrolysis (TEN), and acute generalized exanthematous pustulosis (AGEP). SJS, TEN, and AGEP may be fatal and may occur after just one use.
The new draft recommendations are meant to warn consumers and healthcare providers of the risks, which are applicable to all single- and combination-ingredient acetaminophen-containing products marketed under the "Tentative Final Monograph (TFM) for Internal Analgesic, Antipyretic, and Antirheumatic (IAAA) Drug Products for Over-the-Counter Human Use," according to the FDA. The FDA "does not intend to object to the marketing of products containing the following warning language" under the revised guidance: "Allergy alert: acetaminophen may cause severe skin reactions. Symptoms may include: skin reddening, blisters, rash. If a skin reaction occurs, stop use and seek medical help right away." This language should appear in the "warnings" section of the product labeling, the agency indicated.
SJS and TEN are typically the result of medication use and are potentially fatal disorders that involve cell death in the skin and mucus membranes, Parker Waichman LLP explains. SJS blistering usually occurs in the mouth, eyes, and vagina; blistering may spread to internal organs. SJS may also cause patchy areas of rash that ultimately peel off the skin, scarring, and blindness. TEN, an extremely severe form of SJS, occurs when over 30 percent of the body is involved. Both SJS and TEN are considered medical emergencies and, typically, require hospital burn unit or intensive care treatment.
AGEP is a sometimes-deadly skin reaction that is typically seen as a reaction to a medication. An AGEP skin eruption usually occurs approximately five days after starting the medication. Symptoms may include many small pustules that cover large areas of the skin and do not involve the follicles or mucous membranes; fever; increased white blood count levels, including disease-fighting white blood cells; facial swelling; and hepatitis, according to Parker Waichman LLP.
"Patients and physicians rely on safe and effective medical treatments," says Gary Falkowitz, Managing Attorney at Parker Waichman LLP. "Patients and doctors need to know whether, and to what extent, certain types of treatments may be dangerous."
Patients who are injured following the use of acetaminophen-containing medications may be entitled to compensation, Parker Waichman LLP indicates.
Parker Waichman LLP continues to offer free legal consultations to victims of pharmaceutical side effects. If you or a loved experienced an injury as a result of a drug treatment, please visit the firm's Acetaminophen-Skin Disorders page at YourLawyer.com or contact the firm, toll-free, at 1 800 LAW INFO (1-800-529-4636).