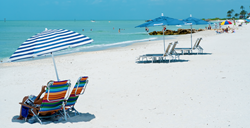 Best Beach Towns in Florida
Naples, Florida (PRWEB) December 05, 2014
It's starting to look like a white winter wonderland in Florida as white power sand is added to the beaches. Naples, one of the best beach towns in Florida for family vacations on the blue green Gulf of Mexico is undergoing an facelift on its beaches. FEMA and the State of Florida are investing nearly $3 million for the 2014 Naples Beach Renourishment Project. The project will add about 79 tons of new sand to a stretch of Naples beaches. Officials in Collier County say the purpose is to fix the damage left by Tropical Storm Debbie two years ago. The project should be finished before Christmas.
The renourishment project isn't expected to stop tourists from visiting the area for planned family vacations. With temperatures hovering around 80 degrees, Naples is warmer than most of Florida during the cooler months of December through April. The area especially flourishes during the holidays. When people visit the area, whether it's for the first time, or if they've been many times, one can't help but enjoy all that Naples has to offer.
The city is a wonder to behold. It's home to beautiful beaches, breathtaking sunsets and lush tropical foliage. Naples is famous for its chic shopping and nouveau dining opportunities, and it's close to nature attractions for the increasing ecotourism visitors. In addition, Naples also has an unbelievable amount of money all around it. It's fun to drive around to see the luxurious golf course and beachfront mansions and expensive cars.
For those reasons, many people who visit often find themselves looking for new homes in Naples Florida or a second home to settle down in retirement. It often only takes one trip to fall in love with Naples! Naples' wide variety of homes are very attractive to homebuyers looking for everything from simplicity to a life of luxury.
For example,Pelican Bay is one of the premier master planned communities in Naples offering the beach, tennis, golf resort amenities, and an oceanfront 530 acre nature preserve. This 2,100-acre Naples FL beach community is home to an extraordinary estuary system connecting the community to Pelican Bay's white sandy beaches. Amenities include a private golf club, 18 tennis courts, a fitness center and a community center for social activities. The Pelican Bay, Tennis Center is one of Southwest Florida's most active tennis communities. Annual events at the center include the Annual Pro Exhibition, Pro League, championship events, and Grand Slam Series.
Nearby Marco Island and the Naples beach is the award winning Lely Resort. It's home to three-championship golf course and just minutes from beautiful beaches and the highly desirable Fifth Avenue Shopping District. Lely Resort offers 8 unique neighborhoods with quality builders to choose from, with prices from the $200s to over $2 million and over 15 beautifully decorated model homes in Naples to tour. This area features all the finest amenities and many provide brilliant views of the golf course or protected nature preserves.
Another community for those looking a new home in Naples Florida centered around boating is Windstar on Naples Bay. It's a gated community with a relatively new clubhouse and tennis courts and its own marina with no-bridge access to the bay. Windstar on Naples Bay is a 450-acre boating and golfing community with views of the luxurious Port Royal community. Windstar has all the amenities of Southwest Florida in one location: golf, boating, close to beaches, shopping and entertainment. It also includes an 18-hole golf course designed by Tom Fazio, a 33,000 square foot clubhouse that features a full pro shop, state-of-the-art fitness facility and aerobics center, locker rooms with a lounge, as well as a casual and formal dining. The living styles in Windstar on Naples Bay include coach homes, villas, condos, and single-family homes. The community also offers a range of floor plans and lots that give buyers freedom of choice.
When folks think Naples, they probably think Europe – that's the idea behind Mediterra! Whether it's for a home for someone in retirement or looking for a new home in Naples overlooking the golf course, this award winning gated community has over 1,000 acres of open space between gorgeous homes. Ranked in the Top 100 Golf Communities by Golf Digest, this community provides 2 Tom Fazio Golf Courses! It also hosts 3 clubhouses, The Country Club, The Sports Complex, and The Beach Club, all with pools and restaurants. In addition at Mediterra Naples there is marina access with dry and wet storage, play grounds, family picnic areas, parks, and is close to public and private schools.
About Real Estate Scorecard:
Real Estate Scorecard writes unbiased real estate reviews providing in-depth information about popular gated communities in Florida, Georgia, North Carolina, South Carolina and Tennessee, all in an effort to help people discover where to retire in the Southeast.
Website: http://realestatescorecard.com