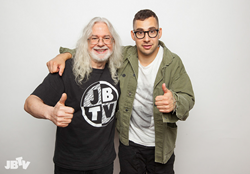 "First of all Jerry Bryant, I want to thank you for all that you've done in helping us to make roads safer."- Jesse White, Illinois Secretary of State
Chicago, IL (PRWEB) December 09, 2014
JBTV Music Entertainment has announced the broadcast of the 26th annual Safe Drive Live Music Marathon, airing December 27, 2014 from 12 noon – 10PM (CST). The marathon features 10 hours of inspired live performances and cautionary messages from several of the biggest names in indie and alternative rock, including Fall Out Boy, The 1975, Hozier, Foster The People, and Fitz and The Tantrums.
JBTV will simulcast the marathon on Dec 27, 2014, from 12 Noon – 10 PM on Chicago's CAN TV Channel 19 and everywhere in HD optimized for mobile and tablets via Livestream, http://www.JBTVMusic.com, and ConsequenceofSound.net. Leading up to New Year's, Safe Drive program blocks will broadcast on Comcast Channel 25 and WJYS in the Chicago DMA culminating in a nationally televised #SafeDrive New Year's Eve Special from 10 PM – 3 AM in over 40 television markets on Tuff TV a national digital TV network.
Since 1987, JBTV founder and host Jerry Bryant has been on a mission to deliver anti-impaired driving messages to all adults, especially young adults who are typically harder to reach. By teaming with some of the most popular bands in the music industry, Bryant has spread the message that everyone of a legal drinking age has the right to enjoy a good time with alcohol while also being responsible. Bryant has worked with road safety advocate Marti Belluschi from day one. The two have carried on the tradition for over 25 years, dutifully reminding adults to drive safely. Recent shows have included a reminder to avoid using mobile devices while operating a motor vehicle.
Belluschi was 15 years old when a drunk driver struck her car head-on at 90 mph. She has worked on traffic safety issues, including impaired driving prevention, since 1985, when she volunteered to help with a new Mothers Against Drunk Driving (MADD) organization in Illinois. She has participated in a variety of traffic safety programs and presentations, including work with the Alliance Against Intoxicated Motorists (AAIM). Belluschi enthusiastically supports Bryant's message and approach: "Jerry Bryant produces the most entertaining program that communicates a positive message about not driving impaired. He's really made a difference by reaching adults with a message communicated by musicians who younger adults, in particular, are more likely to follow."
School of Rock, an ingenious concept that gets kids and adults rocking out and performing on stage with their peers, agrees. SOR VP of Marketing Mark Biondi says, "We are in incredible support of the Safe Drive mission. We are honored to have our students be a part of this program with JBTV and help to deliver such an important message to keep everyone safe at the holidays and every day." (http://www.schoolofrock.com)
Niles, IL based Shure Incorporated is a national program sponsor of Safe Drive Live Music Marathon. Shure Senior Director of Marketing Stephen Kohler shared, "One of the most meaningful and special aspects of the Holidays is being with loved ones. That's why we are happy to support JBTV and are our artist friends in support of this special cause." (http://www.shure.com)
Greg Corner, JBTV's music director, curated a show that is packed with hits and special iconic live performances. According to Corner, "The biggest challenge was editing the list of bands. There were so many bands that I love, and music that really hasn't been seen or heard by many people. I wanted to showcase the new bands and the sounds that are currently influencing the radio charts. We landed on an incredible lineup, and the work is extraordinary."
Watch an exclusive trailer for the 26th Annual Safe Drive Live Music Marathon here: http://content.jwplatform.com/previews/WDJBFyk7-oR5lcGWB
About JBTV - Established in 1984, JBTV is America's longest running television program dedicated solely to breaking new bands and presenting live music performances. Legendary host Jerry Bryant's iconic live music showcase has given seminal music acts like Jeff Buckley, The Smashing Pumpkins, 30 Seconds From Mars, No Doubt, Oasis, and Green Day their first North American television exposure. JBTV hosts the best bands in music including Bastille, Imagine Dragons, Foster the People, Arctic Monkeys, Tove Lo, and Hozier. JBTV continuously broadcasts live performances, artist interviews, and music news from their HD television studio in downtown Chicago. JBTV also programs a national late night music show on Tuff TV, a regional program on WJYS, and across the internet via their live music video website and social media.