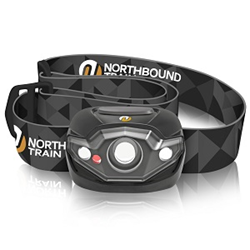 The fact that it is lightweight and compact is a huge advantage when wearing it for hours at a time.
St. Louis Park, Minnesota (PRWEB) December 05, 2014
The Northbound Train Headlamp is currently the top-rated headlamp on Amazon. Customers have awarded the headlamp the highest overall rating out of more than 100 different headlamp offerings across various brands. Of the 310 customer reviews for the Northbound Train Headlamp on the webstore, 275 are five-star ratings and 24 customers have rated the product four stars.
Amazon reviews are generally considered to be a very reliable indicator of product quality and acceptability amongst the buying public. The glowing reviews and excellent ratings posted by buyers appear to be based on three factors: 1) brightness and versatile light settings, 2) lightweight and comfortable for long-term use, and 3) superior aftersales service and lifetime warranty. Scott Anton, Northbound's VP of Marketing says, "We all know how important customer reviews are to being successful on Amazon and other marketplaces. Being recognized in this manner is a true milestone for our company and has clearly been a major factor in why our sales are up more than 25% in the last month alone."
The Northbound Train Headlamp has an output of 90 lumen and projects at more than 100 feet. It features multiple settings that allow users to customize the brightness and effect to various scenarios. A dimmer light, activated with a single button, enables users to set the right amount of light for the particular situation. A red light preserves users' night vision while providing sufficient light to navigate comfortably. Users can set the headlamp's strobe light on to ensure that they are seen or alert people during emergency situations.
Northbound customer Pat Cochran says, "This light is great. There are several different light settings for your needs. I think my favorite part is the dimmer setting. I also like the red and white strobe settings. I use the headlamp primarily for additional visibility when riding my bike at night, and the strobe settings are nice for that. I'm very happy with the light, and I highly recommend to anyone."
Weighing in at 3.2 ounces, the headlamp does not bounce off users' heads during fast movements and stays on comfortably on jogs and runs. An adjustable strap allows users to vary the tightness levels of the headlamp around their forehead. Customer John Hufnagel has this to say about the product in a headlamp review: "The Northbound Train headlamp is definitely the best of the lot. The fact that it is lightweight and compact is a huge advantage when wearing it for hours at a time. It is very comfortable to wear, and much less likely to become lost or misplaced as it is where it is supposed to be…on your head."
The post-sale service for Northbound Train Headlamps includes a proactive follow-up with tips and tricks on extracting maximum advantage from the product. Customer Loren Galarza says, "Excellent customer service. Northbound exceeded my expectations by sending helpful tips on how to use the headlamp. Headlamp has a lifetime warranty which is an added bonus. Thanks Northbound."
According to Juli Allen, Director of Customer Care for Northbound Headlamp, "There probably isn't a more important metric for me than to be rated the best headlamp on all of Amazon. Because as our Director of Customer Care, my job is to make sure that at the end of the day customers have a great product backed by outstanding service." Northbound Train Headlamp is available on Amazon, and comes with a lifetime warranty and money-back guarantee.
Note: At the time of this press release, the Northbound Headlamp was also awarded the Best Selling Camping Headlamp designation by Amazon.
About the company
Northbound Train Enterprises, LLC provides long-lasting and versatile LED Headlamps. The company is headquartered in Saint Louis Park, Minnesota and was founded in 2013 to provide high quality outdoors and preparedness solutions. All Northbound Train products are backed by a lifetime warranty and money back guarantee.
5115 Excelsior Blvd #303
Saint Louis Park, MN 55416
612-315-9221