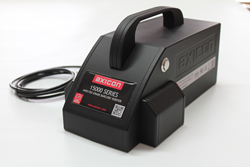 Cincinnati, Ohio (PRWEB) December 06, 2014
Axicon announce the launch of a new 1D/2D barcode verifier. The 15000 verifier has been specifically designed to verify both linear and 2D barcodes.
The 15000 is a camera based verifier which is powered solely from a USB port. Its typical application includes retail point of sale barcodes like UPC/EAN and also 2D barcodes such as Datamatrix, QR etc. The 15000 verifier meets the applicable ISO/ANSI/GS1 verification standards.
"We are delighted to introduce the new Axicon 15000 Linear and 2D barcode verifier," said Martin Morrison, managing director of Axicon Auto ID Ltd. "Our customers want to be able to verify the printed quality of 2D symbols, whether they are used for improved pharmaceutical traceability, Unique Device Identification (UDI) or for marking purposes." More information on the new 1D/2D verifier can be found at http://www.axicon.com/15000.
About the company: Axicon Auto ID Limited is a specialist in barcode verification equipment. Based in the UK, Axicon Auto ID Ltd specialize in barcode verification. Axicon distributes its product range through a network of international partners across the globe. Axicon's presence in the Americas goes back for at least two decades. Axicon Auto ID invites anyone with an interest in barcode verification technologies to view their full product range online at - http://www.axicon.net.
For further information:
Axicon Contact: Paul Bergé, Axicon Auto ID LLC
pb(at)axicon(dot)com