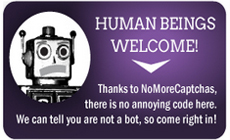 Our technology can be used to put a stopper in the fraud causing enormous waste for advertisers and digital ad agencies.-Adrian Neal, CEO
Luxembourg City, Luxembourg (PRWEB) December 05, 2014
Oxford BioChronometrics, the Luxembourg-based user authentication company that was recently spun out of the University of Oxford's Isis Software Incubator, has developed its Human Recognition Technology to help online advertisers combat the estimated $46 billion in advertising fraud and increase ad engagement with its new, patent-pending product known as SecureAd.
Digital advertisers worldwide are expected to spend $140 billion this year for online ads, but industry watchdogs such as the Interactive Advertising Bureau and Association of National Advertisers expect one-third of that to be wasted on fraud – almost all of which is due to automated programs known as bots. Current solutions such as analytics and hidden code designed to catch bots (known as honeypots) simply do not work. Other solutions, like Google's new version of reCaptcha, still ask human users to go to work deciphering pictures for them, slowing users down and decreasing engagement.
"We knew current solutions were insufficient in combating rampant bot fraud, and that our technology creates a secure online environment because it identifies and verifies unique human characteristics while users are interacting with their devices. When we spoke with large advertisers and digital ad agencies about the fraud issues they face and the scope of the problem, we realized that our technology can be used to put a stopper in these issues and save the industry from enormous waste," explains Adrian Neal, CEO and co-founder of Oxford BioChronometrics. "We quickly understood that not only can we help solve the problem of bot fraud like click fraud and impression fraud, but with a few minor tweaks to the way we package our Human Recognition Technology, we can stop fraud by malicious publishers, too."
Many of the world's leading ad agencies, advertisers and publishing networks are already in advanced discussions with the Company to use the patent-pending SecureAd which is targeting to become the industry standard to effectively put an end to ad fraud as we currently know it. It uses Oxford BioChronometrics Human Recognition Technology to analyse user behaviour to determine if an Internet user is a human or a bot. When a user is determined to be a bot, the ad is not shown, eliminating the potential for any kind of bot-generated fraud. SecureAd can also determine if other types of fraud are being attempted, such as stack fraud, where publishers place ads on top of each other, but only one is visible – when one ad is clicked, all the stacked advertisers have to pay. It can also detect and prevent 1x1 fraud, which occurs when a publisher shrinks an ad down to 1x1 pixel and out-of-frame fraud, when an ad is still well outside of the normal view of a page. In short, with one solution, the fraud the digital ad industry faces can be stopped.
"It is hard to overestimate the effect widespread adoption of the biochronometric analysis developed by Adrian and his team at Oxford can yield," said Roy Azoulay who runs the software incubator at Isis Innovation, a shareholder in Oxford BioChronometrics. "It is more than gratifying to see Oxford University alumni utilise years of industry experience, concepts instilled in his research and the support of the Isis Software Incubator to flourish in the commercial world and potentially influence an entire industry. It's a textbook example of the profound impact institutions for higher learning have on the commercial world and how quickly those impacts can be felt."
With no currently known technology that can fool their behaviour-based biochronometric technology, Oxford BioChronometrics claims that the days of advertising fraud could very well be numbered.
About Oxford BioChronometrics
Luxembourg-based Oxford BioChronometrics was founded in 2012 by Adrian Neal and a team of software engineering Masters' graduate and cryptographics experts with decades of experience in IT, Banking and Security. Spun out earlier this year from the Isis Software Incubator, the company offers its behaviour-based user authentication, bot blocking and fraud prevention technology to companies large and small around the globe. Known for creating e-DNA, electronically defined natural attributes, Oxford BioChronometrics offers the most secure user authentication technology currently on the market. In addition the company successfully completed its EUR 1.0 million capital raise. The capital will be used to continuing product development to expand a portfolio of sound online security and authentication products For more information, visit http://www.oxford-biochron.com.