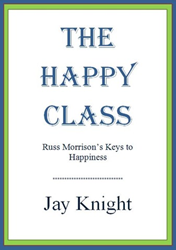 We'll cover between 10 – 12 topics relating to practical happiness.
(PRWEB) December 08, 2014
Join best-selling author Jim Jorgensen, who writes under the pen name "Jay Knight" and learn lessons from the author of one of Amazon's #1 bestselling happiness book "The Happy Class." This uplifting workshop will be held at Sofia University on Monday, January 5, 2015 from 1 - 5 p.m.
"We're honored to have Jim teach this workshop to our students and our community," said Sofia President Liz Li. "One of our business goals is to advocate health, happiness and productivity of our faculty, staff and students. This Happy Class will offer us ways to reach our goals while helping others to be happier."
The Happy Class weaves a six month adventure with a lifetime's worth of happiness lessons into one book. This is a story of events that took place six years ago and was written not as a guide to happiness, but just a story. Since this book was first made publicly available, it quickly created an intense following with people using it to make their own lives happier. The Happy Class Facebook page has over 55,000 "Likes."
"I wrote the book for my grandchildren," said Jorgensen. "I wanted to teach them things to do that would allow them to be happier adults. At the workshop I'll teach students the difference between situational happiness and true happiness, imagine one being your first kiss and the other waking up excited about your day. We'll cover between 10 – 12 topics relating to practical happiness."
Jim Jorgensen is a Bay Area serial entrepreneur. He has started over 25 enterprises since getting his MBA at Stanford. Some of the entities remained small, while two of them reached market caps in excess of $1 billion. "The Happy Class" is his second book.
"Despite a life of many ups and downs, I'm still one of the happiest people I've ever met," said Jorgensen. "I figured why and decided I should share this with as many people as possible."
About Sofia University
Founded in 1975, Sofia University is a private, non-sectarian school offering graduate and undergraduate programs at the intersection of psychology, spirituality, and technology. For almost 40 years, within the context of scholarship and research, the school has offered transformative education for the whole person, probing the mind, body, spirit connection. According to Sofia University President Liz Li, "Sofia is doing something unique in bringing together two seemingly different worlds of technology and humanistic values together. Not only does our curriculum promote creativity, cultural sensitivity and mindfulness, but also it brings essential skills and values to the next generation of well-balanced engineers, scientists and leaders in the world." Sofia is accredited by the Western Association of Schools and Colleges. We invite you to take a closer look into the Sofia experience and see for yourself if our university is the school for you. Visit our website at http://www.sofia.edu.