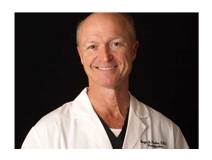 Jackson, MS (PRWEB) December 04, 2014
Jackson, MS periodontist, Dr. Roger B. Parkes has recently been certified to perform an advanced gum graft alternative known as the Pinhole Surgical Technique (PST™). PST™ is a minimally invasive procedure for treating receding gums that does not involve the cutting of gum tissue or stitches.
Receding gums are most commonly caused by gum disease that has developed along the gum line, but can also be from poor brushing habits, hormonal changes, tobacco use and genetics. Whatever the cause, Dr. Parkes recommends treatment, to avoid further damage like bone and gum deterioration, decay or eventual tooth loss.
With the new gum graft alternative, PST™, Dr. Parkes can improve the look and health of gum lines in a simple office procedure. As the name implies, the technique uses a tiny hole in the gums to allow Dr. Parkes to access the healthy gum tissue with special dental tools. He then gently stretches the tissue over to cover the areas of recession. Most patients report only slight discomfort with the minimally invasive procedure, and little to no bleeding with the process. With no cutting and stitching of the delicate gum tissue, recovery is rapid and most patients are able to resume life activities the same day.
Receding gums can be a thing of the past in Jackson, MS with the exciting new gum graft alternative offered at the Periodontal Associates of Jackson, P.A. Anyone looking to learn more about PST™ is encouraged to visit Dr. Parkes' website or call his office to schedule an appointment.
About the Practice
Periodontal Associates of Jackson, P.A. is a periodontal practice offering personalized dental care for patients in Jackson, MS since 1981. Dr. Roger B. Parkes was accepted into the first class at the University Of Mississippi School Of Dentistry and received his dental doctorate there. He attended Baylor College of Dentistry in Dallas, TX for his Periodontics studies and graduated with his Masters of Science in Dentistry. Dr. R. Clarke Stewart received his B.S. degree in Biology from Mississippi College, and graduated cum laude from the University Of Mississippi School Of Dentistry. He became certified in periodontics from the University of Alabama. Dr. Stewart is a member of OKU (Omicron Kappa Upsilon), the American College of Dentists, and recent past president of the MS Dental Association. Drs. Parkes and Stewart are part of one percent of dental professionals providing the LANAP® FDA cleared laser procedure for gum disease and periodontal treatment. To learn more about Periodontal Associates of Jackson, P.A. and their dental services visit their website at http://www.periojackson.com and call (769) 230-3500.