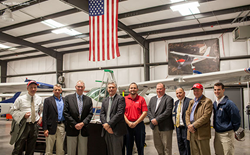 Lynchburg, Va. (PRWEB) December 04, 2014
Several leaders in the aviation industry visited the Liberty University School of Aeronautics (SOA) recently, touring the facilities and meeting with Liberty administrators about the school's innovative programs.
On Tuesday, Nov. 18, executives from Textron Aviation Inc., a Textron Inc. company and home to the iconic Beechcraft, Cessna, and Hawker brands, visited the SOA to sign a long-term agreement for the purchase of Cessna Skyhawk aircraft as Liberty continues to grow its flight training fleet.
This allows Liberty to plan for the SOA's continuing growth and ensure that it offers top-notch, modern aircraft for its students.
The Cessna Skyhawk is the global standard training platform and a mainstay of Liberty's flight training. In August, the SOA visited Textron's Independence, Kan., facility where it took delivery of the facility's milestone 10,000th single-engine aircraft.
According to retired U.S. Air Force Brig. Gen. Dave Young, associate provost for aeronautics education at Liberty, the recent agreement strengthens an already well-established relationship between the school and Cessna.
"Textron Aviation is the largest manufacturer of general aviation aircraft in the world and their recognition of Liberty's School of Aeronautics and the growing relationship between the organizations is a testimony to the quality of our program, as well as our faculty, instructors, and students," Young said.
Textron echoed this sentiment.
"As a valued training partner in both manned and unmanned flight training and a Cessna Pilot Center, we are excited to solidify and extend our relationship with Liberty University," said Joe Hepburn, Textron Aviation senior vice president, Piston Aircraft. "Through this new agreement, more students will gain access to Textron products that will provide greater aviation training opportunities equipping them for bright futures."
The agreement will also help the SOA as it supports and supplies its growing flight training affiliates around the country. The SOA began the process of establishing Flight Training Affiliates (FTA) at airports in Virginia and across the U.S. this summer. In Virginia, FTAs are already operating in Newport News, Manassas, Leesburg, Warrenton, and Stafford. An FTA in Valparaiso, Ind., also began operation over the summer. This unique educational model allows students residing near Liberty Flight Training Affiliates to complete much of their college coursework online while doing their flight training at their local airport.
"The uniqueness of Liberty also owning its own Fixed Base Operator (FBO), Freedom Aviation, located at the Lynchburg Regional Airport, offers opportunities for partnerships with organizations, such as Textron, that do not exist at any other university in the country," Young said. "These enhanced relationships lead to employment for our graduates and opportunities for business expansion and job creation in the Lynchburg area."
On Monday, Nov. 17, another group of Textron Systems executives visited the SOA to discuss Liberty's innovative program for Unmanned Aircraft Systems (UAS). Textron Systems is a leader in UAS development and operations.
The School of Aeronautics is working in close cooperation with Textron Systems and other UAS industry leaders to formulate procedures for an effective regulatory regime for Unmanned Aerial Vehicles.
During the meeting, the group prepared a proposal outlining ways to help train and certify UAS pilots in response to the forthcoming incorporation of these vehicles into in the National Airspace System. As the demand for UAS pilots grows, it is imperative that students are being highly trained and qualified to safely and effectively operate within FAA regulations. The training would involve academic, simulator, and flight training that includes normal operations along with emergency and tactical operations and applications.
"By combining the strengths and capabilities of our organizations, we have come up with an exponential answer that can be handed to the Federal Aviation Administration for their consideration to be incorporated into their Code of Federal Regulations," said John Marselus, Liberty's associate dean for UAS. "The graduates of this program would put in place highly trained and qualified personnel who can safely and effectively operate within all Federal Aviation Regulations using the current guidelines and exceeding them with a proven training program."
Marselus added that they are also looking into creating a similar certification program for mechanics who maintain UASs. It would incorporate foundational knowledge of current rules and incorporate additional information and training that is UAS specific.
Liberty's UAS program has been gaining recognition among UAS industry leaders. In January, Liberty played a key role in the selection of a UAS test site in Virginia, one of only six in the country authorized by the Federal Aviation Administration (FAA). The UAS program has been developed with specific industry needs in mind, to provide mutual benefits to students and employers. Liberty has been working with leading companies that hand-select graduates. Several alumni are working in the field thanks to the competitive edge they received at Liberty. Last fall, students from Liberty's UAS program received UAS operator certification in an Air Force-sponsored training event. The UAS program earned the Innovator of the Year award from Virginia's Region 2000 Technology Council last year.
About Liberty University
Liberty University, founded in 1971, is the largest private, nonprofit university in the nation, the largest university in Virginia, and the largest Christian university in the world. Located near the Blue Ridge Mountains on more than 7,000 acres in Lynchburg, Va., Liberty offers more than 450 unique programs of study from the associate to the doctoral level. More than 200 programs are offered online. Liberty's mission is to train Champions for Christ with the values, knowledge, and skills essential for impacting tomorrow's world.