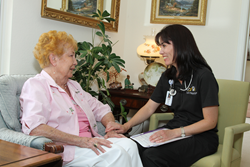 It's an exciting time in health care and we're very excited to be part of it.
SURPRISE, ARIZ. (PRWEB) December 05, 2014
Preventing hospital readmissions and managing chronic disease present complex challenges for health care providers and organizations.
Sun Health, a community-based nonprofit organization, is using innovative approaches to address these challenges. The resulting Sun Health programs, the first of which was launched in 2011, are yielding promising results and drawing attention from many quarters in the health care industry.
Case in point: Sun Health was asked to share its story next week in Scottsdale, Arizona at the 2014 Population Health Alliance Forum, a global trade association of the population health industry. The annual forum draws population health management researchers, program leaders and thought developers from around the world.
Jennifer Drago, Sun Health's executive vice president of Population Health, will detail how programs like Care Transitions and the Center for Health & Wellbeing are helping older adults, many of whom have one or more chronic disease, improve their health and well-being and recover more fully following hospitalizations.
Sun Health will be featured twice during the forum: first during a poster presentation and secondly during the forum's Walking Learning Labs session. The two Sun Health programs highlighted are:
Sun Health Care Transitions
Sun Health introduced its Care Transitions program in 2011 to help patients with one or more chronic disease make a smooth transition from hospital to home and avoid re-hospitalization. Staffed by registered nurses, licensed practical nurses and a social worker, the program is one of just 76 demonstration sites nationwide participating in Medicare's Community-Based Care Transitions Program.
More than 17 percent of Medicare patients discharged from a hospital—approximately 2.6 million seniors—are readmitted within 30 days, at an annual cost of more than $26 billion. By contrast, Sun Health's Care Transitions program achieved a 7.2 percent readmission rate over 36 months, 60 percent lower than the national readmission rate for Medicare patients.
The program, offered at no cost to patients, served more than 2,230 patients in 2014 providing them with an in-home visit and four phone calls for 30 days following hospital discharge. Nurses provide coaching on health conditions and red flags, provide medication review and education, ensure a timely physician follow-up visit and link clients to available community resources. The program has received several national awards for excellence.
The Sun Health Center for Health & Wellbeing
Launched in March, the Sun Health Center for Health & Wellbeing offers group classes and individual consultations to help people manage chronic disease and make needed lifestyle modifications such as improving nutrition, physical activity, losing weight, reducing stress and quitting tobacco. The Center is designed to complement diagnostic and treatment recommendations made by a client's primary care physician.
The team – comprised of a registered dietitian/certified diabetes educator, an exercise physiologist/health coach, an acupuncturist, massage therapists, and yoga and tai chi instructors – use evidence-based practices to help clients reach their health and wellness goals. The Center also offers chronic disease management programs accredited or approved by groups such as the American Association of Diabetes Educators, the Centers for Disease Control and Stanford University.
In less than one year, the Center has achieved positive results. The first two groups that took the Center's Diabetes Prevention Program in 2014 collectively lost 323 pounds, an average weight loss of 6.6 percent for the 21 total participants. The Centers for Disease Control has shown that weight loss of five to seven percent of body weight can reduce the risk of developing type 2 diabetes by 58 percent in those with prediabetes.
More than 57 percent of participants who took the Diabetes Self Management Education series reported an improvement in healthy eating, while more than 62 percent reported an improvement in physical activity. Participants also saw a decrease in their A1c scores (a blood test used to diagnose and monitor diabetes), showing that their blood sugars were more in control after they completed the series.
"We plan to expand our care transitions, chronic disease management and health & wellness programs to educate and motivate more people to lead healthier lives," Drago said. "It's an exciting time in health care and we're very excited to be part of it."
About Sun Health
A long-standing community partner championing healthy living, nonprofit Sun Health is a community-based health care organization providing pathways to Population Health through philanthropy, senior living, community programs and superior health care. Population Health aims to improve the health of an entire population. Learn more at http://www.sunhealth.org.
About the Population Health Alliance
The Population Health Alliance (PHA) is a global trade association of the population health industry. The organization has nearly 100 members representing stakeholders from across the health care delivery system that seek to improve health outcomes, optimize medical and administrative spend, and drive affordability. Through its robust advocacy, research and education initiatives, the PHA offers members a forum to advance shared learning and applied research to further innovation and establish best practices in the population health field. Visit http://www.populationhealthalliance.org to learn more.
# # #