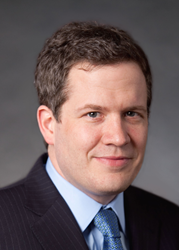 Kansas City, MO (PRWEB) December 05, 2014
American Century Investments has promoted Senior Investment Analyst Ted Harlan, CFA, to a portfolio manager position on the firm's Global Growth equity strategies, including the Global Growth Fund. A member of the Global Growth team since joining American Century in 2007, Harlan shares portfolio management responsibilities with Global & Non-U.S. Equity Co-Chief Investment Officer Keith Creveling and Portfolio Manager Brent Puff.
Creveling and Puff are veteran portfolio managers who have been on the Global Growth team since 1999 and 2001, respectively. Creveling has served as portfolio manager on the strategy since 2005, while Puff became a manager in 2008. Total strategy assets exceed $14.4 billion, of which $13.9 billion are for institutional clients.*
Prior to his promotion, Harlan provided fundamental equity research and analysis for the financial sector for the Global Growth and Non-U.S. Growth equity strategies. Before joining American Century, Harlan was an equity research analyst for Griffin Securities in New York. Earlier in his career, he was an institutional convertible sales trader with J. Giordano Securities in Chicago. He has worked in the investment industry since 1998.
Harlan earned bachelor's degrees in philosophy and English from Miami University in Oxford, Ohio and a master's degree in business administration from Columbia Business School in New York. He is a CFA charterholder.
American Century Investments is a leading privately-held investment management firm, committed to delivering superior investment performance and building long-term client relationships since its founding in 1958. Serving investment professionals, institutions, corporations and individual investors, American Century Investments offers a variety of actively managed investment disciplines through an array of products including mutual funds, institutional separate accounts, commingled trusts and sub-advisory accounts. The company's 1,300 employees serve clients from offices in New York; London; Hong Kong; Mountain View, Calif. and Kansas City, Mo. Jonathan S. Thomas is president and chief executive officer and Victor Zhang and David MacEwen serve as co-chief investment officers. Through its ownership structure, more than 40 percent of American Century Investments' profits support research to help find cures for diseases including cancer, diabetes and dementia. For more information, visit http://www.americancentury.com.
You should consider the fund's investment objectives, risks, charges and expenses carefully before you invest. The fund's prospectus or summary prospectus, which can be obtained by visiting americancentury.com, contains this and other information about the fund, and should be read carefully before investing.
International investing involves special risks, such as political instability and currency fluctuations.
*As of 9/30/2014.
American Century Investment Services, Inc., Distributor
©2014 American Century Proprietary Holdings, Inc.